NEWS
The 10 Conversations We Wish We Overheard at the SAG Awards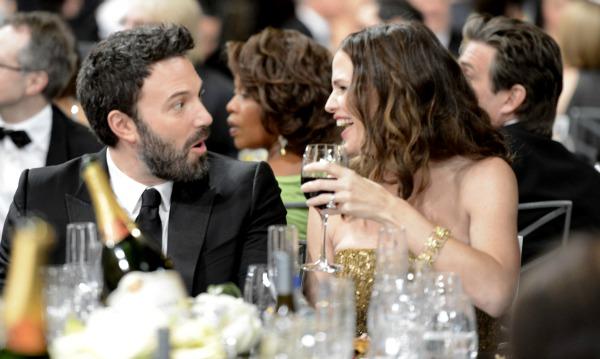 The SAG Awards are a time for some of Hollywood's most talented and gorgeous stars to come together and celebrate their hard work over the past year. We not only love to see the dresses and the couples, we like to see the old friends catching up, new friends being made on the carpet, and all the whispering and private moments that go on while millions of people watch from home!
Article continues below advertisement
Here are the top 10 conversations we wish we overheard at the SAG awards:
1. Amy Poehler and Bradley Cooper on the red carpet. What were they talking about?! Were they reminiscing about their days working together on Wet Hot American Summer? Has Amy learned the dance from Silver Linings Playbook? Was Bradley trying to get the scoop on her character Leslie Knope's upcoming wedding on Parks and Recreation? Even though we didn't actually overhear their convo, we're guessing it was hilarious (and hot, because you know, Bradley Cooper).
AMAZING HAIR AND MAKEUP LOOKS AT THE 2013 SAG AWARDS!
2. Justin Timberlake and his stylist. He looked hot. There is no denying that. And we like the suit but just feel confused about the shirt he chose underneath? Wouldn't a solid color look better? Did Justin like this look right away, or did he have to be talked into it? But, like his latest single "Suit & Tie" (featuring Jay-Z) sometimes it takes a little while for JT's style to grow on us, and we trust him—sexy's not going anywhere as long as he's around!
Article continues below advertisement
MORE ON:
Jesse Tyler Ferguson
Article continues below advertisement
Article continues below advertisement
SAG AWARDS 2013 RED CARPET FASHIONS
10. Everything Ben Affleck had to say all night. It started with him arriving on the red carpet with wife Jennifer Garner. He whispered something to her and kissed her on the side of her face in a truly romantic moment. You can tell they are in love because they shared this sweet moment before they even knew the cameras were on them, and it was one of many all night long! We also wish we could be in the group huddle as the Argo cast left the stage after winning for Performance by a Cast in a Motion Picture.