NEWS
11 Things I Learned From NYC's MTV EMA Event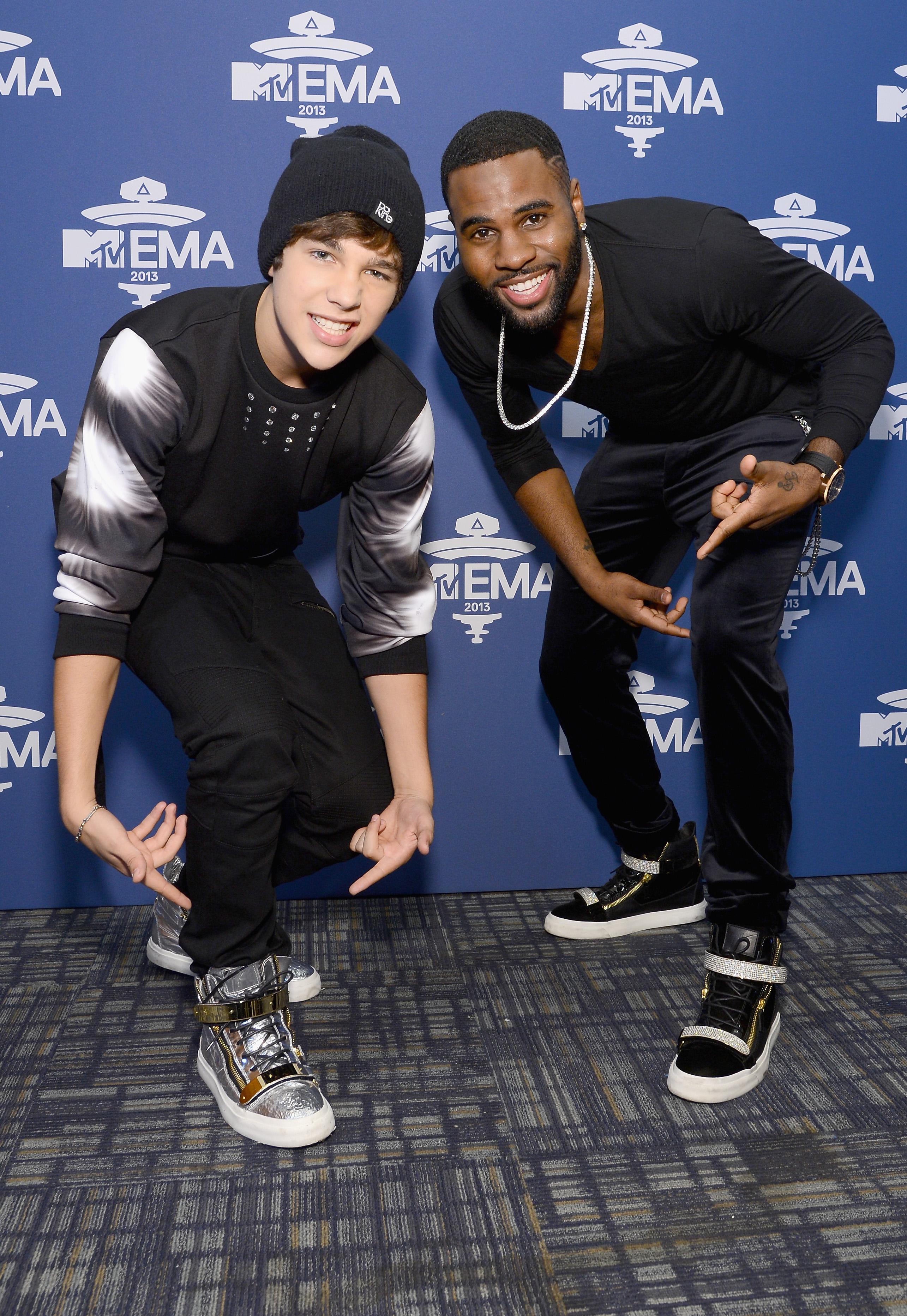 Sure, sure Miley Cyrus *allegedly* smoked a joint onstage at last night's MTV EMA's, but the channel's home base of NYC wasn't about to let The Netherlands have all the fun! That's why they put together a star-studded event aboard NYC's famed Intrepid Sea, Air & Space Museum. Fall Out Boy, Jason Derulo and Austin Mahone took to the floating stage to ring in this year's big European event, with Darren Criss and Cher Lloyd serving as hosts for evening.
Article continues below advertisement
Lucky for me, I was able to hang backstage before the event took place to chat with the day's big guests and sure, indulge in a few mini grilled cheese sandwiches that were elegantly provided by those nice folks at MTV. So what did I learn from my day aboard the Intrepid? Take a look:
1.) Austin Mahone has the same stylist as Kanye West—so don't be surprised if you see him sporting a leather skirt sometime soon.
2.) And wouldja look at that, Jason Derulo walked in wearing almost the exact same shoes as his fellow singer! Giuseppe Zanotti better take note & sign those boys up for a campaign, STAT.
OK! News: 5 Reasons We're Loving Jason Derulo's New Album
3.) Fall Out Boy's lead singer Patrick Stump was thrilled with his solo album, but a follow up isn't on his radar at this point. Stump revealed, "I feel like we're really just getting started with this round of Fall Out Boy, so I don't want to take any attention away from that right now."
Article continues below advertisement
4.) Do any of the Fall Out Boys babysit Pete Wentz's son Bronx? "No," according to guitarist Joe Trohman, "I don't sit on kids, I think they're way too young."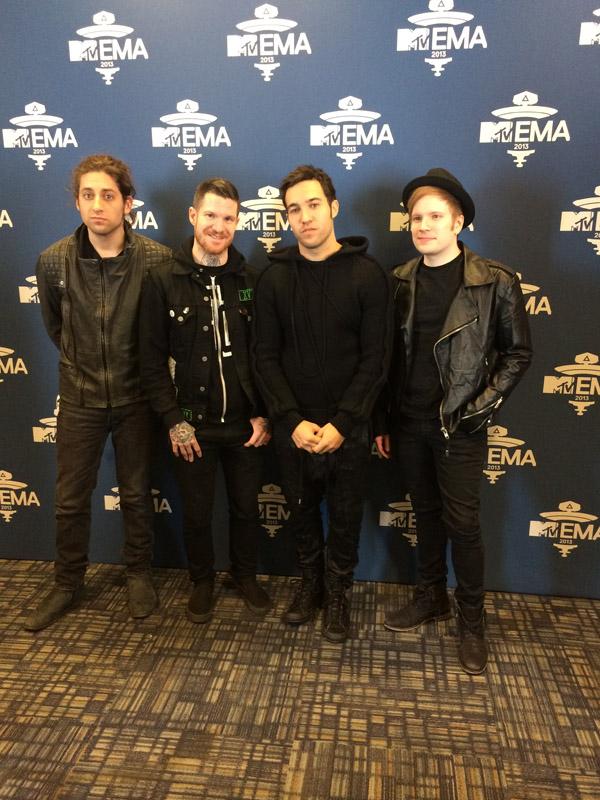 OK! News: Pete Wenzy Opens Up About His Ex Ashlee Simpson
5.) Jordin Sparks was there to support her main squeeze. I spotted the singer (makeup free, looking insanely beautiful) making her way backstage. Maybe to pick up one of those to-die-for little grilled cheeses? We'll never know for sure.
6.) And don't expect a normal proposal if Jason ever pops the question. "I kinda want to do something that's out the box, a total surprise," he said. But have you seen his video for "Marry Me" yet? Seems to me like the question has already been popped!
7.) Cher Lloyd knows a thing or two about that, since the tiny (and hilarious) songstress has been engaged since Spring 2012. But if you want to know how her wedding planning is going, take a number. When asked if she'd picked out her dress yet, she responded dryly, "Maybe I have, maybe I haven't... but I ain't gonna tell ya!"
Article continues below advertisement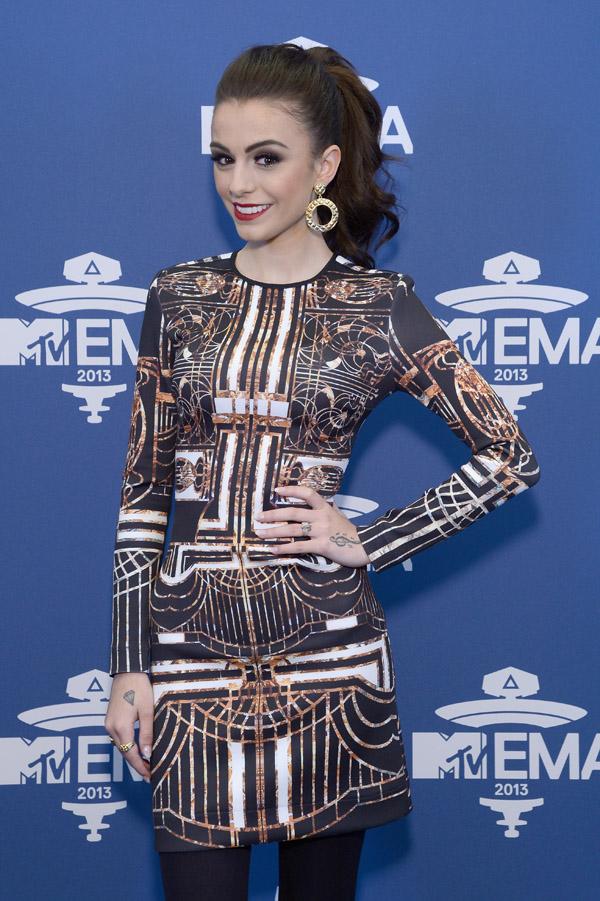 Watch: What It's Like To Spend A Day With Cher Lloyd
8.) If you ever run into Austin Mahone at a bar (which you shouldn't, cause little dude is only 17) prepare to be knocked out by his favorite pickup line: "Do you know how much a polar bear weighs? Enough to break the ice! Hi, I'm Austin Mahone." #Swoon.
9.) Darren Criss is a total jazz hound. When asked who his dream collaborator would be, Darren responded, "No one, they're all dead!" He added, "I'm not going to be cutting records with Chet Baker anytime soon."
10.) And on that note, don't expect an album anytime soon from Mr. Criss. While the Glee star has been recording said record for years, he hasn't had the time to really focus on it. Don't hold out on us too long, Darren.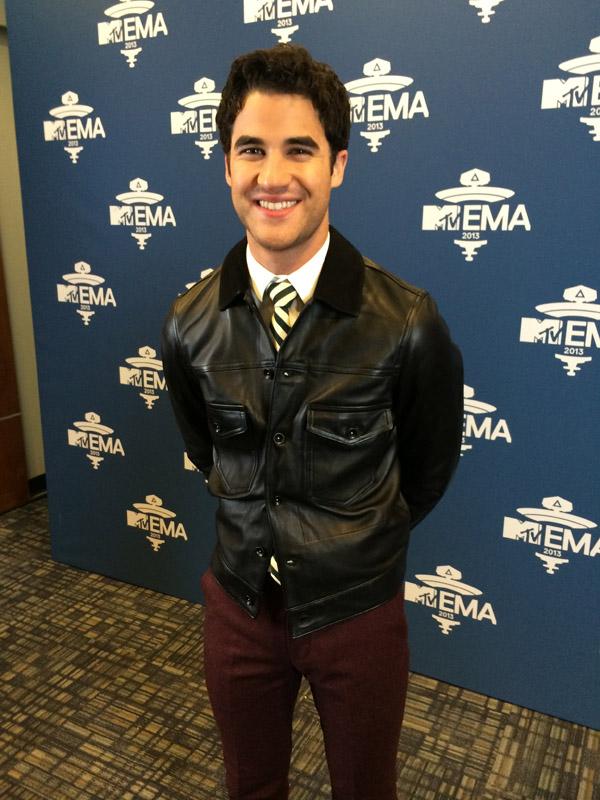 11.) While mostly everyone could agree that Miley Cyrus was the bell of 2013 (at least in terms of Google searches), you won't catch Austin or Cher partaking in the dancing craze that Miley made famous. When both were asked if they'd twerk with her, a resounding "NO!" filled the air.
No hard feelings Miles, they both think you're a genius as well.
Did you watch the MTV EMA's last night? Were you as impressed by the performances as we were? Did Miley's stunt keep her at the top of this year's Most Talked of Twerkers? Tell us in the comments or tweet us @OKMagazine.