NEWS
11 Things We Learned From This Week's 'Real Housewives of Orange County'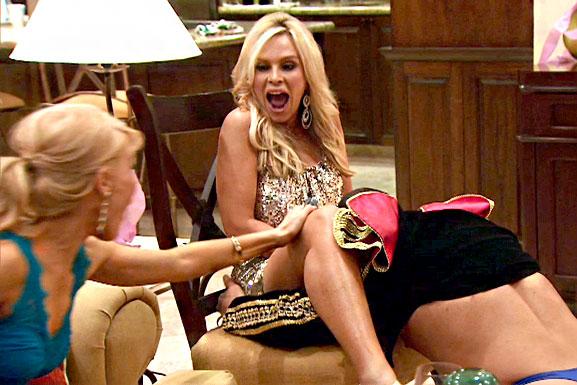 On this week's episode of The Real Housewives of Orange County we get more Battle Bachelorette: Gretchen v. Vicki and a very brief dinner with Alexis and Jim…
OK! News: Get Amy Adams 'Man of Steel' Premiere Look
• The women haven't been in Mexico 24 hours and Gretchen can't contain the cah-razy Vicki gossip she learned from Lauri any longer, especially considering the way Vicki has hijacked Tamra's bachelorette party. She spills the juicy deets to Heather as they sit dejected in the limo waiting for the other ladies, but Heather isn't about to get in the middle of it. Keep it classy, HD!
Article continues below advertisement
• Vicki couldn't be more thrilled she has caused drama. It's really, really annoying. She then proceeds to pee on Tamra's bed. And I thought it couldn't get worse than the time Adrienne unapologetically left spray tan marks on Kyle's white furniture on Real Housewives of Beverly Hills. Gross!
OK! News: Cat Deeley's Yoga Pro Offers Energizing Tips
• Cue the limo ride from hell. Gretchen and Heather are understandably still ticked from last night while Lydia makes an off-handed comment about their drunken night being the best part of the trip. Not the kind of thing that's going to smooth things over, Lyds!
• Vicki apparently hates the word hypocritical when Gretchen uses it to describe her and completely flips out. Keep using the word, G, keep using it. This scene is making my blood boil.
OK! News: Six Most Shocking Moments From This Week's 'Bachelorette' Episode
• Vicki brings up "the bracelets" (her favorite joke about BFF charm bracelets that she throws around constantly) and Tamra is dunzo. She just wants everyone to be friends. Make no mistake, everyone is not going to be friends.
MORE ON:
Real Housewives of Orange County
Article continues below advertisement
• Tamra and Gretchen have a heart-to-heart on the beach during which time T reveals to G that Vicki told her, "My plan worked," regarding stealing time away from Gretchen the night before by partying with the other ladies without her.
Photos: 12 Fashion Finds For Your Workout Wardrobe
• Lounging poolside, Vicki tells Lydia that Gretchen should have more respect for her and think of her as a mentor. Really, Gunvalson? What kind of mentor? A mentor of shadiness?
• Shiz gets real back on the beach as Tamra opens up to Gretchen about her family history, suicidal thoughts and attempts why she is the way she is. Hate seeing Tamra cry but hope it helps the friends reconnect.
• Look—it's Alexis! She and Jim debate having another baby. Alexis wants one, Jim wants to wait. Moving on…
OK! News: How I Survived a Trip To the Hamptons With 'Princesses: Long Island'
• The bachelorette party regroups for dinner and everyone seems to be getting along…for now. Raunchy gifts are given and Lydia bows out before the strippers arrive.
• Stripper madness ensues. Things get interesting. I'm gonna go out on a limb and say Lydia is really happy she skipped out.
Next week it looks like we're in for some discord while dancing and drama between Alexis and Heather. Until then…
Are you Team Gretchen or Team Vicki? Who do you think makes a better friend for Tamra? Tell me in the comments below or tweet @OKMagazine.