NEWS
How I Survived a Trip to the Hamptons with the 'Princesses: Long Island'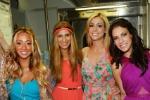 Article continues below advertisement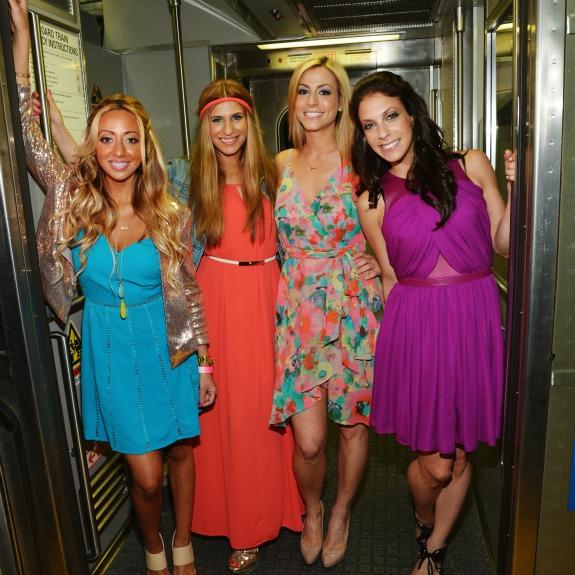 3:19pm—I arrive in the LIRR terminal of Penn Station in New York City. It is a Friday afternoon in the summer and it's torrentially raining, so everyone is grumpy and hustling around the area.
3:35pm—The princesses arrive and pose for a photo opp. A crowd gathers, and fans are handed Princesses: Long Island nail files and glossy headshots.
4:03pm—Paparazzi board the train along with the other journalists and worry aloud that they'll get stuck on the train, which has no stops between NYC and Westhampton.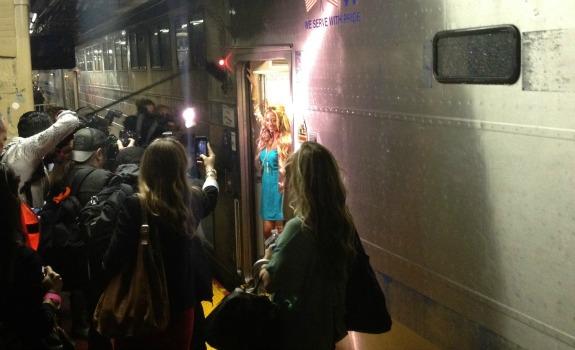 4:07pm—The train leaves! The paparazzi do escape in time.
4:15pm—With so many stimuli, it's actually hard to function. We are offered sandwiches, cocktails, hand massages, makeovers, and of course, the princesses themselves. Where to begin? Food, of course. For strength.
4:30pm—My friend and I settle in with cocktails and snacks. Why doesn't all public transportation offer such amenities? Oh right, because the food would be gross and people would become belligerent.
Article continues below advertisement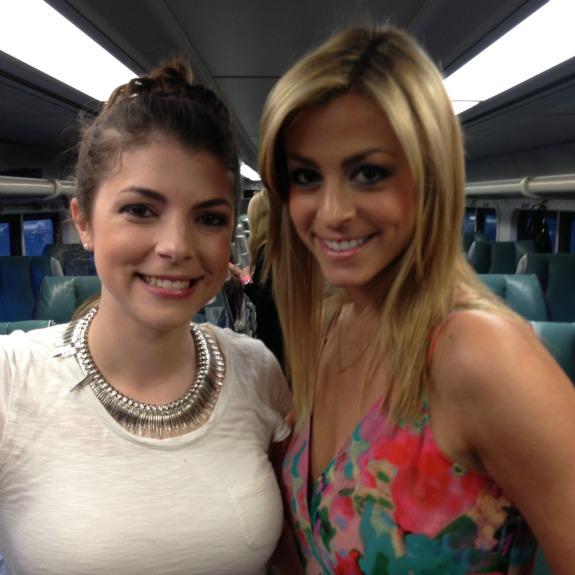 5:02pm—Princess Casey Cohen comes over to introduce herself as I'm having liquid eyeliner applied. Try doing this on a shaking train during a storm. That makeup artist was a miracle worker. Casey and my friend compare their favorite SoulCycle instructors in NYC.
5:11pm—I sit down with Princess Amanda Bertoncini to talk about her business, Drink Hanky. She explains, "I wanted to make something that was beverage couture. I would go to Starbucks and grab five napkins, and I'm sorry, but they melt away." She then gives me the Drink Hanky right off her cup! "It keeps your hands from getting cold, and it's also a fashion statement and a marketing tool." She talked to my bestie and they bonded immediately, as you can see:
Article continues below advertisement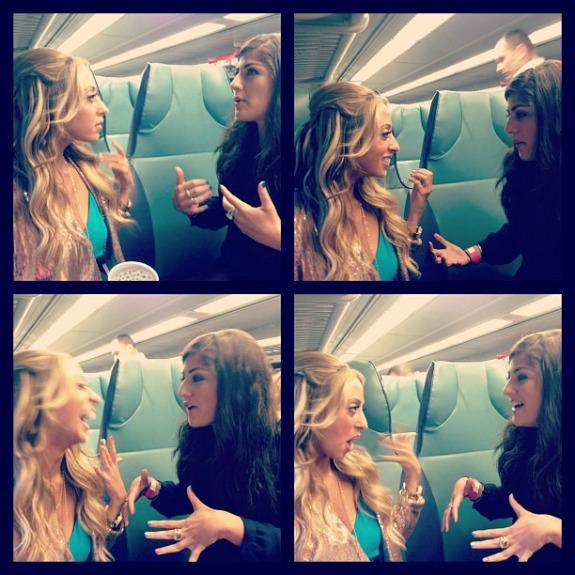 5:13pm—My friend joins the four-seater, and Princess Chanel Omari smushes in so the two chat about keeping kosher and representations of Judaism on television. Within the minute, Chanel has invited us to Shabbat at her house for the following weekend. She is the warmest, loveliest person alive.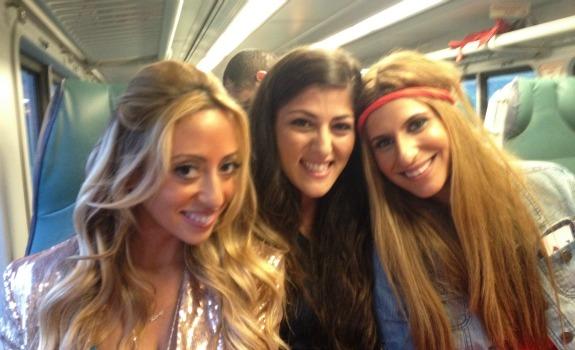 5:15pm—Amanda tells me the story of how she met her boyfriend on LIRR in a four-seater like the one we're in now. The story was retold in last night's episode of Princesses: Long Island.
5:21pm—Everyone elbows in for last-minute photo opps with the girls.
5:30pm—We exit the train in Westhampton, which seems to be experiencing a monsoon. In the pouring rain, I ask Princess Joey Lauren (who gives me strong Bethenny Frankel vibes) about her plans for tonight and she tells me about her little brother's birthday party. It is a very big relief that I'm not the only one who's not cool enough to stay in the Hamptons tonight. Everyone on this ride to the Hamptons, including the princesses, chooses to turn right around and go back to New York.
Article continues below advertisement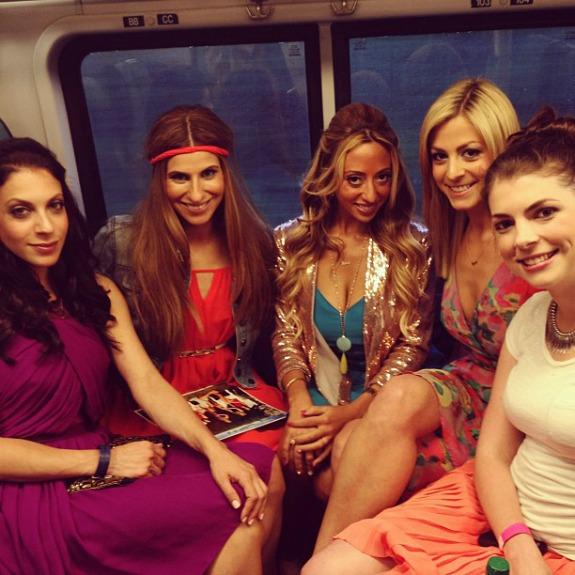 5:37pm—Even though it's late and pouring rain, Chanel waves me over, calling me by my last name, to apologize that we didn't get to talk. She hangs with me in the rain to do a quick interview. The worst date she's ever been on? "You're going to see it on the show! It's the worst date. And it's really funny and awkward and I tried my best to be a nice, good person because I don't judge. That's my main goal and motto, don't judge. But I can't wait for you to see it!"
5:41pm—My friend and I board the shuttle bus back to New York City. It takes us three hours to get back but we are so emotionally depleted it's okay. When I finally turn my dead phone back on, I have nine tweets and tons of Instagram comments from my new BFFs. Shabbot shalom, indeed.
Are you watching the Princesses: Long Island? What do you think so far? Which girl is your favorite? Tell us in the comments below or tweet us @OKMagazine.