NEWS
13 Things We Learned From Last Night's 'Real Housewives of Orange County'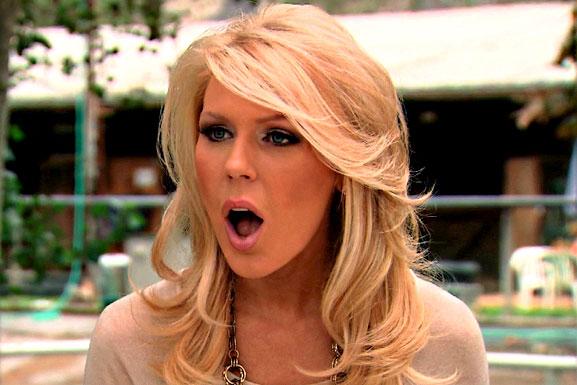 The Orange County ladies are heading south of the border for Tamra's bachelorette party and it's making me really anxious. Confession: I had a similarly horrible experience at a friend's bachelorette in which I was very much the Gretchen/Heather, stood up at a party I planned because other friends of the bride had ulterior motives. So I'm going into this episode annoyed, and my anger is directed at Vicki before I've even seen the drama unfold. Here's what I picked up from this episode from start to finish:
Article continues below advertisement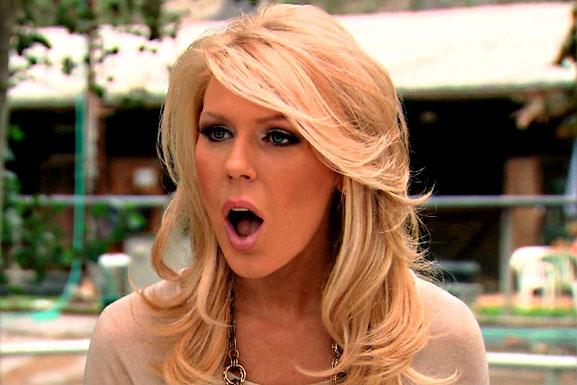 • This week new girl Lydia thinks Tamra is the one who should "make that bold move" to smooth things over with Alexis. I swear last week she said the same thing concerning Alexis, something about it being what God has called them to do, be the bigger person. Lydia thinks she's the Friendship Whisperer but I think she's a glutton for punishment.
• I also learn that Tamra can put together quite the cheese plate. Look at that thing! Amazing!
• Tamra suddenly has a breakthrough thinking maybe she should have more compassion for Alexis. She admits the speech she gave at the women's conference made her realize that the younger version of herself actually has a lot in common with the woman she once referred to as "Jesus Jugs." We're really seeing a kinder, gentler T!
Article continues below advertisement
Photos: Inside Kim Kardashian's Baby Shower
• Gretchen and Heather planning Tamra's bachelorette party is kind of like watching a very special episode of The Odd Couple. Heather has an art gallery visit in mind. Gretchen wants strippers, strippers and more strippers. Heather wants to design a more tasteful swimsuit for Tamra while G thinks the skimpier the better.
• Alexis reveals to Vicki that Tamra has summoned her to lunch for a talk. Vicki is obsessed with the idea of besties and "the bracelet thing" (meaning a best friend bracelet like the kind you can get at your nearest Claire's location). This is supposed to be funny. It's not. If she says "the bracelet thing" one more time I might scream. Get over it, Vic, get over it, please.
OK! News: Check Out OK!'s Ask Heather Advice Column With Heather Dubrow
• Lydia drinks lemon drops in the middle of the day—thatta girl!
• Holy shmoly—Alexis and Tamra are really having a breakthrough. Has hell frozen over? Do those lemon drops have magic fairy dust sprinkled in them? Lydia is way too proud of herself but I'm skeptical. This truce can't last for very long.
• Well, well, well, look who we have here —former OC Housewife Lauri Peterson. Lauri, who hooked up with Gretchen's fiancé Slade once upon a time, drops a major Vicki bombshell, telling Gretchen she's never known Vicki to be with just one person. "I know a lot about Vicki," Lauri warns in a confessional. "I know where the bones are buried. She better watch out." Cut to a story about Vicki allegedly being caught in bed with a woman and a man. Lauri tells Gretchen she's never told anyone about this, implying G should keep her mouth shut. But she's saying it in front of the RHOOC cameras. Lauri's worried about Gretchen telling people about this? How about Bravo, Lauri?
Article continues below advertisement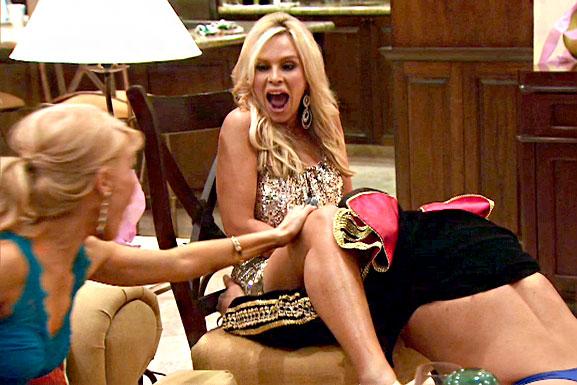 Photos: 20 Hot 'Real Housewives' Looks
• Gretchen looks like she is packing the entire Hustler store for a two-night trip to Mexico. Customs is going to have a field day with this suitcase.
• Once in Mexico we learn Vicki apparently runs Puerto Vallarta because she's been going there since she was 21. And if she doesn't whoop it up, someone's ass is on the line. Because everyone whoops it up in Mexico. That's why people go to Mexico. To whoop it up. So you better whoop it up, got it?
• Lydia is adorably appalled when G pulls out a rainbow-colored penis-shaped lollipop for Tamra. Asking, "Aren't we pillars of the community?" Lady, I don't know who you think you're in a limo with, but there are no pillars here. I'll give you Heather, she classes up the joint. The others may be entertaining and fun, but pillars of the community they are not. The Newport Beach Junior League meeting is thattaway, sister. With all due respect, this is Bravo, not PBS.
Article continues below advertisement
Watch: Why 30 Wasn't The Most Confident Age For Amy Adams
• You can't take these women anywhere nice, Heather. You know it. I know it. But I appreciate your optimism in trying. No one likes Café Des Artistes except Heather, and the way Gretchen is poking at the shrimp on her plate reminds of the first Sex and the City movie when Charlotte refuses to eat anything but shelf-stable pudding in Mexico because she's terrified of getting food poisoning.
• Vicki still wants to whoop it up and won't take no for an answer, and this is when I start seeing red. She leads Tamra and Lydia off to par-tay while Gretchen and Heather use the ladies room. They're left in the limo wondering where the girls are while V smugly and drunkenly dances her way to Andales, the bar she has not stopped talking about since they arrived in Mexico.
Do you think the housewives can put differences aside to have a good time in next week's ep? Tell me in the comments below or tweet @OKMagazine.