NEWS
30 Days of Summer Meals: Fitness Guru Michelle Bridges' Basil and Walnut Pesto Spaghetti
Article continues below advertisement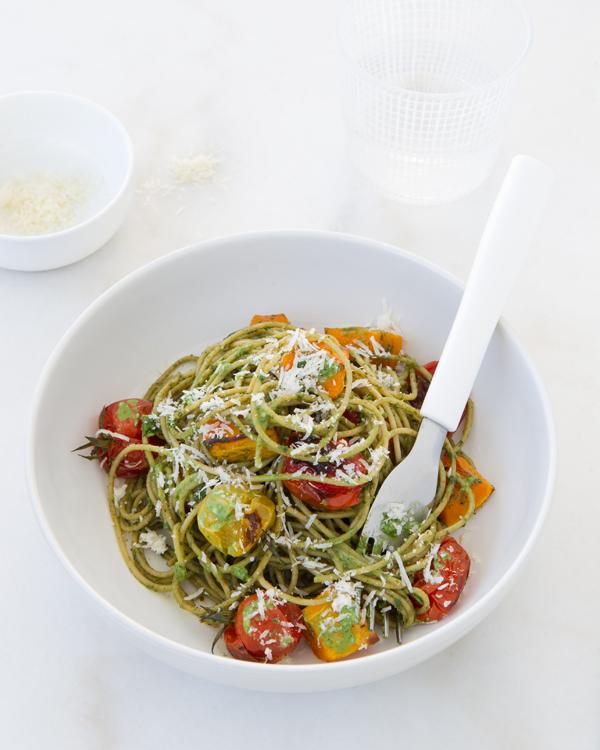 Basil & Walnut Pesto Spaghetti with Roast Tomatoes & Butternut Squash
Serves 2
Ingredients
8 oz. Butternut Squash , cut into bite-sized pieces
5 1/2 oz. Cherry Tomatoes
1g Olive Oil Spray
2 cups Basil Leaves
4 teaspoons Walnuts, chopped
1 cloves Garlic, minced
4 teaspoons Lemon Juice
1 oz. Parmesan , grated
5 oz. Spaghetti
Directions
1. Preheat oven to 400°F. Arrange squash and tomatoes on a nonstick baking sheet. Spray lightly with oil and toss to coat. Roast until squash is tender, about 20 minutes.
2. Meanwhile, blend basil, walnuts and garlic in a blender or food processor. Add lemon juice and blend until fairly smooth. Stir in half the parmesan.
3. Cook spaghetti according to package directions. Drain and return spaghetti to pan.
4. Use a spoon to roughly squash tomatoes. Add tomatoes, squash and pesto to spaghetti. Toss to combine and season with freshly ground black pepper.
5. Divide pasta between 2 bowls and sprinkle with remaining parmesan to serve.
Note: Recipe temperatures are for fan forced ovens. If you do not have a fan forced oven, you should increase the given temperature by 25 degrees fahrenheit.
What's your favorite summer meal? Tell us in the comments or tweet @OKMagazine.