NEWS
30 Rock Gets 22 Chances at Emmy Gold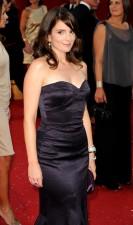 On NBC's 30 Rock, Tina Fey plays a put-upon producer of a ill-regarded show, but in the real world, she and her cohorts are mining for Emmy gold after receiving 22 nominations this morning — more than any other show.
In addition to the Comedy Series category, 30 Rock also saw nods for Fey in Best Actress, Comedy and co-star Alec Baldwin for Best Actor in a Comedy Series. Both Tracey Morgan and Jack McBrayer were nominated in the Supporting Actor field, joined by Jane Krakowski for Supporting Actress.
Article continues below advertisement
"The writers have created an amazing character in Jenna which I just love to play," Jane told <em>OK</em>! in a statement. "I'm so honored to be part of this ensemble, this is my first Emmy nomination, I'm so excited! I am blown away by the number of nominations the show has received and thrilled for everyone."
Guesting on 30 Rock also seemed to be a lucky charm with Jennifer Aniston, Elaine Stritch, Steve Martin, Jon Hamm (also nominated in the acting category for Mad Men) and Alan Alda all nominated for their appearances on the show.
Fey was also recognized in the Guest Actress category for her scathing portrayal of Alaskan governor Sarah Palin on Saturday Night Live.