NEWS
5 Funny Moments You Might've Missed from the 2013 Miss USA Competition!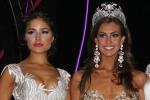 We know there's a good chance you watched the Miss USA pageant last night, but with the inevitable channel-flipping going on between the Kardashians, Princesses: Long Island and Real Housewives of New Jersey, it was definitely hard to notice every little thing that went on. So, in case you were too focused on the sequined dresses and big hair of the pageant or distracted by Kim's baby drama, we're giving you five funny moments from the competiton that you just have to see!
Article continues below advertisement
OK! News: Get Your First Look At Little Everly Tatum!
Miss Texas makes it to the top 15, but doesn't know what to do next. We know it must be very overwhelming to be in front of thousands of people and have your name called first, but that's what dress rehearsals are for! Skip to the 33 second mark to see Miss Texas look happy to be a finalist, but very, very confused.
Nick Jonas laughs at his own joke. Ok, so him calling the Jonas Brothers his favorite band was kinda funny, but his post-joke chuckle was what actually made us giggle.
OK! News: Rihanna Teams Up With MAC For A Hot Summer Collection
The choreography. The dancing going on around the JoBros during the swimsuit competition was a little bit awkward, but it was nothing compared to the Bollywood/yoga/runway-inspired evening wear choreography. Maybe if there were less arm movements and more, well, dance moves, it wouldn't have left us questioning what we just watched.
Article continues below advertisement