NEWS
8 Best 'So You Think You Can Dance' Performances Ever In Anticipation of Tonight's Summer Premiere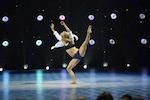 Get your dancin' shoes on people, So You Think You Can Dance is back! We've been teased with tons of tweets and pics from judge Adam Shankman but tonight we finally kick off the season 10 SYTYCD auditions....AKA, the most hilarious part of the whole season!
Photos: Celeb Baby Bump Watch!
After 9 seasons, the show has racked up some pretty amazing routines. Okay, we have to admit, we have a few favorites (hey, Twitch!) and even few celeb performances! Check out our 8 favorite performances ever right here:
Article continues below advertisement
Photos: 11 Young Celebrity Moms We Love
Danny and Neil - In season 4 of SYTYCD, Danny and Neil quite literally fought it out in an intense Mia Michaels piece. It was hot, crazy and impressive all at the same time.
Twitch and Kherington - Another amazing Mia Michaels routine, Twitch and Kherington made magic on the SYTYCD stage just with a bed, some flower petals and a lot of intense contemporary choreography all to John Mayer's "Dreaming With a Broken Heart".
Lacey and Neil - Did ya know that former pro on Dancing With The Stars, Lacey Schwimmer, got her start on SYTYCD? She might not have won but her dance with partner, Neil, brought us to tears. Another amazing Mia Michaels routine she dedicated to her late father.
Travis Wall and Heidi Groskreutz - Rewind to season 1, winner Travis and his partner, Heidi performed "Park Bench" which later won an Emmy award for Outstanding Choreography. It's absolutely amazing.
MORE ON:
So You Think You Can Dance
Article continues below advertisement
Ellen Degeneres - This is why we love Ellen. After a contestant had been taken out of the competition due to an injury, Ellen stepped right in...or should we say, krumped right in. You've gotta see this...
Katie Holmes - Yup, she was on the show. Katie proved to the world that she's a true triple threat. Not only did she perform a whole dance routine, but she belted out a song while doing it. Bet ya didn't think she had it in her, did ya?
Lauren Froderman and Twitch - Okay, okay, we're obvi obsessed with Twitch but his partner, Lauren, seriously killed it with this hip-hop routine to "My Chick Bad". BTW, she won the whole thing, obvi.
Robert Roldan and Allison Holker - Season 2 runner-up, Travis Wall, choreographed this amazing routine on Robert and Allison to pay tribute to his mom. There was so much emotion and heart in this dance, there was no way we couldn't fall in love.