NEWS
A Second By Second Breakdown of Drake's Explosive New Video for "Hold On, We're Going Home"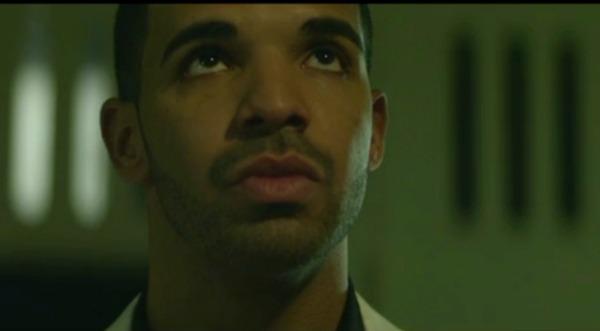 Let me start by saying that I love this song. Are other people into it? I feel like "Hold On We're Going Home" is groovy (meaning it has a great groove and rhythm and beat to it. Do not meant to negate its grooviness by using that word in a nerdy manner), and reminds me of a fun 80s R&B jam. It's also a perfect fall song. I'm ready to put it on repeat on my iPhone while I walk along wearing a scarf and hold a hot Starbucks beverage in my hand.
Article continues below advertisement
0:11 - Love a great ocean shot. Oceans 11 did this the best though, but I appreciate it here.
0:14 - Whoa, threatening music. What's happening? Where's the groove?
0:18 - Miami 1985? Was Drake born then?
0:24 - Oh fancy establishment dinner nightclub scene, ok.
0:37 - Ooh I like that girl's teardrop earrings.
OK! News: See Drake rap back in his Degrassi days
0:42 - Anyone else finding that headband/scarf/bandana thing distracting?
Article continues below advertisement
0:44 - He is REALLY proud of this group of people.
0:53 - Drake looks really nice though.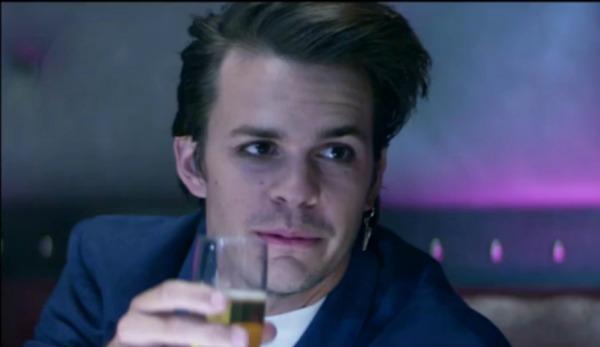 0:53 - WAIT WHAT? Is that Johnny Simmons? What! What's happening!? Why does he have on one earring? Not even "1985" can explain that. Is he friends with Drake, how did he get in here? Does Drake love Scott Pilgrim vs The World? Are they friends? I need to know how this happened!
1:05 - What is that song playing in the background, it sounds awesome. Like, as awesome as this dinner party is, I would want to get up and dance to it. Is it on Drake's new album?
1:13 - Ooh that's a fancy house.
1:22 - Not one piece of what this lady is wearing looks even remotely comfortable. Extremely uncomfortable even.
OK! News: Miley reveals the celeb that has a Hannah Montana tattoo
1:33 - This music is ominous. I'm scared.
1:39 - Oh no, there she goes. She's kidnapped.
1:42 - Back at the fancy dinner party.
1:44 - That phone!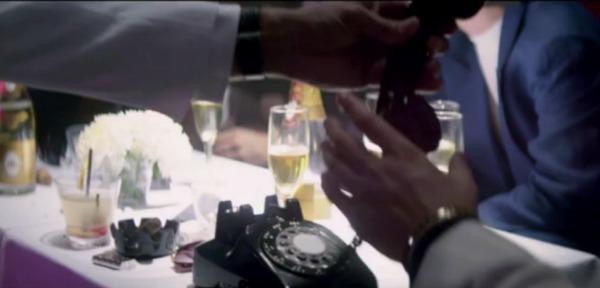 1:53 - Um no, yeah right, like Drake's fingers would touch such an old phone.
Article continues below advertisement
1:56 - Is Johnny Simmons smoking a cigar??
1:59 - No way, too loud in the club to hear on this phone.
2:07 - Johnny Simmons is really nervous about what's happening right now.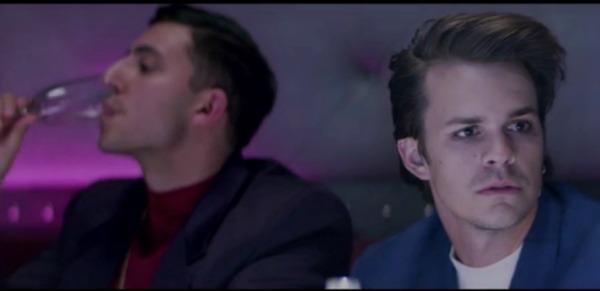 2:07 - Guy next to him? Sipping champagne.
2:18 - Drake knows what this is all about. He's worried, but not surprised. He's leaving the fancy dinner party to come sort this out.
2:21 - Phone slam!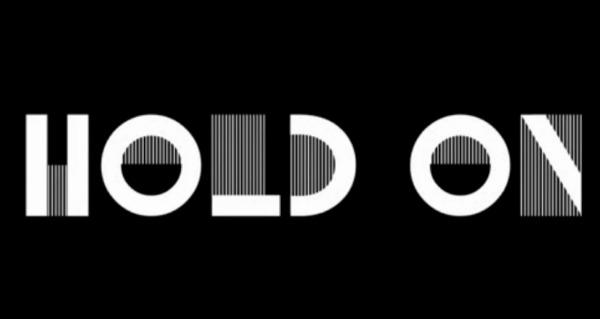 2:40 - HOLD ON
2:46 - The crew walks into the house, music starts, I'm swaying already.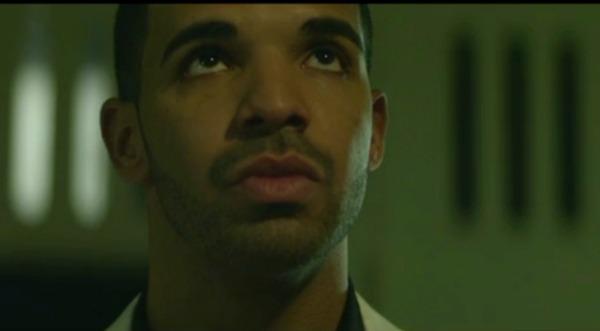 3:00 - Drake is scared to go up the spiral staircase.
3:04 - Flashbacks to better times with his lady! Wait, why wasn't she at the dinner with him in the first place? That seems weird, like it was an occasion she probably should've been a part of.
3:06 - Whoa! A room full of guns!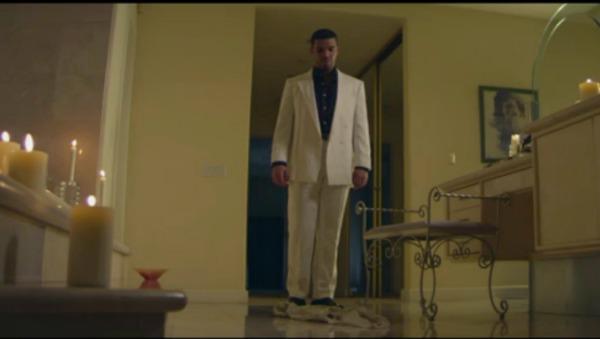 3:11 - Is he wiping up water on the bathroom floor with a towel?
Article continues below advertisement
3:17 - Oh, that's her fancy dress on the floor, not a towel? We never saw her wearing that dress in the first place only that lingerie. So she came home and left that dress on the floor? I'm not the neatest person in the world but a pretty, beaded dress like that even I would know to hang it up.
3:24 - What a man. He's picking up her things off the floor while the rest of his friends are picking up their weapons.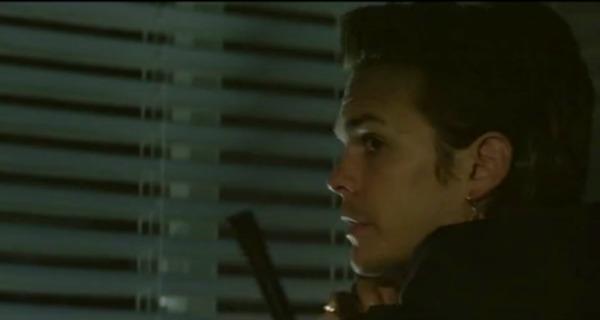 3:32 - Wait he's talking to Johnny Simmons? Is there some conspiring going on here?
3:35 - Ooh your friend suspects something Johnny.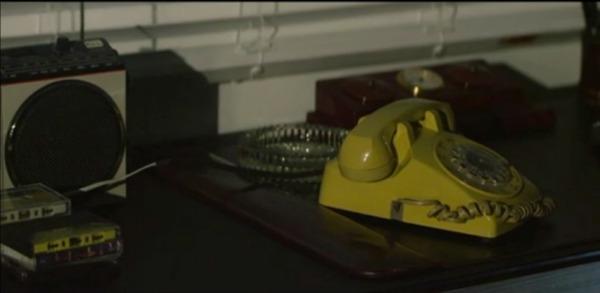 3:41 - Yellow phone! Cassettes! They really dug into the prop closet on this one.
3:50 - Ski masks.
Article continues below advertisement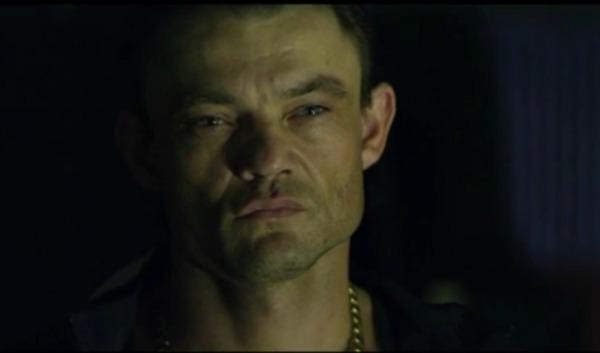 4:06 - What a jaw line on this bad guy though.
4:08 - They're driving now.
4:13 - Is Johnny Simmons having second thoughts?
4:18 - Why is Drake the one driving? Where's bandana guy?
4:21 - She's still tied up, but it can't feel much different from that lingerie. Can they at least throw a blanket or a Snuggie over her, that's just awkward to be sitting there in that getup. Oh right, Snuggies don't exist for 20 more years.
Photos: Check out all the celebs at the iHeartRadio Festival
4:23 - Can she get out of the handcuffs?
4:25 - OK, they are pulling up to the nondescript location.
4:36 - When did Drake change out of his white linen suit to this all-black outfit? I mean he needed to, but I just wanted to watch.
4:40 - Shots fired!
4:42 - The lights are out.
4:48 - OMG she got out! She's running away! Bad guy number 2 is NOT happy.
Article continues below advertisement
4: 51 - Gun raised...OMG to Johnny Simmons' head!
4:53 - And fired. Bye Johnny, was good to see you!
4:55 - Drake is like whatevs. Really not upset over that event.
OK! News: We need to talk about last night's How I Met Your Mother
5:03 - The bad guy is confused and looking around. Did she really get away that quickly? I saw those heels she had on, she can't be that fast?
5:04 - Oh there she goes.
5:05 - Black ski masks on, Drake and his crew minus Johnny Simmons are approaching.
5:08 - More shots! She's sprinting, she better be careful she doesn't get caught in the gunfire.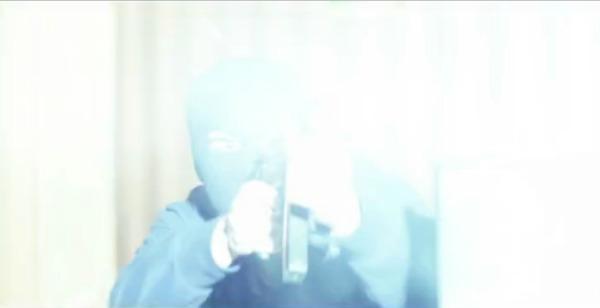 5:35 - This looks like a video game. Lots of guns and stuff.
5:38 - Some shoes running.
5:40 - Oh there's bad guy number 1, had no idea where he went.
5:46 - The girl is still creeping around corners.
5:53 - A lot of shots still being fired.
5:57 - Ok so bad guy number 1 is having a shootout with Drake and his friends minus Johnny Simmons and the girl is creeping around the barrels and walls and everything else they have in random fake storage spaces hiding from bad guy number 2.
Article continues below advertisement
6:00 - It's very dark but I can see all the gold necklaces very clearly. #1985
6:03 - Oh the guy with a grill and a straw hat who did the kidnapping! He's shooting a gun.
6:08 - Oh no the girl is caught! Someone grabs her by the ankle! She doesn't have those heels on that explains her agility.
6:10 - Someone in a black mask is running.
Watch: How to get Julianne Hough's long, lean legs
6:13 - Girl tries to fight off bad guy number 2.
6:18 - Whoa, something big blows up.
6:22 - Definitely some debris.
6:29 - She's still fighting bad guy 2.
6:31 - Oh there's who I presume is Drake! Guns drawn. Shots fired on both ends!
6:34 - Drake rips off his ski mask. He's ok.
6:40 - She's ok! They embrace.
6:44 - And make out.
6:47 - Yes, finally. He takes off his sweatshirt and puts it over her.
6:47 - This means Drake in a tank top, yes please.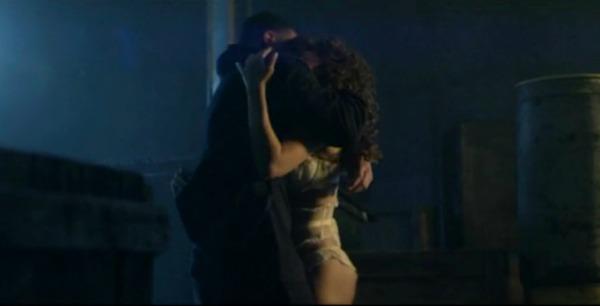 6:54 - Still smoking, this was definitely a crime scene but the sun is coming up.
6:57 - Those who are alive are walking away, which appears to be most of Drake's crew.
7:02 - Music starts to fade.
7:04 - Fade to black.
OK! News: New Tunes Tues, the songs you need to know this week!
And that, ladies and gentlemen, is the music video for Drake's "Hold On, We're Going Home."
What was your favorite part of the video? Did you get Drake's new album? What's your favorite song? Tell us in the comments below or on Twitter @OKMagazine.