NEWS
Ada Wong's Biggest Loser Blog: The Final Four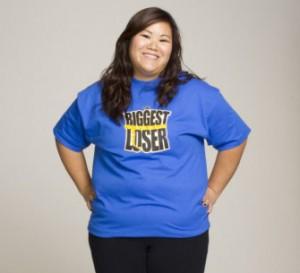 Each week, Biggest Loser contestant Ada Wong will bring you her experience on the show — as the episodes air! Check out the trials and triumphs of Ada each week, only on OKmagazine.com!
We are down to the wire and making the final four was an incredible accomplishment! But as usual, the week leading to the big news was filled with surprises and a roller coaster of emotions.
The day after last week's elimination, I noticed a team of people setting up machines all over the Ranch — and I wondered to myself... what is going on? Turns out it was a POP challenge and meeting Nastia Liukin was a treat! Olympians have a drive and a standard unlike anyone else so it was great to meet her and get her perspective. After walking away without a car, I really wanted to win this challenge! But alas, it went to Brendan — who earned it, deserved it, and will do good with it! I, on the other hand have developed a love/hate relationship with "the rower."
Article continues below advertisement
OK! EXCLUSIVE: ADA WONG'S BIGGEST LOSER BLOG — OVERCOMING PERSONAL CHALLENGES
We now meet weekly at the gym and I make it my mission to beat "it" every time! The six of us met up with Bob and Jillian during the week for a fireside chat and reality started to set in that we're all going home and will face a whole new set of challenges. I think it was important for the trainers to prepare us for what lies ahead. We reflected on our experience here on the Ranch and discussed our game plan for when we get home. All in all, it was a great conversation and we walked away feeling more at ease with the transition.
OK! EXCLUSIVE — ADA WONG'S BIGGEST LOSER BLOG: WHEN THE GOING GETS TOUGH
Our last challenge was special and symbolic of everything we had gone through. I must admit, I got a little misty-eyed. I suppose it was a combination of watching us run, dropping the weights, the flashbacks of our past, inspiring music in the background, and the slow motion of the scenes. You gotta love great editing... it really helps to evoke emotion. Beyond that, I was amazed to see myself run with such ease because I couldn't even run half a lap without stopping my first week on the Ranch. Back at the Ranch, we had our official "last chance workout."
Article continues below advertisement
OK! EXCLUSIVE: ADA WONG'S BIGGEST LOSER BLOG — OOH RAH!
Jillian saw that I was shutting down and at the time, I think I was trying to mentally prepare myself for everything I was going to face when I got home. She knew it was her last opportunity to get a breakthrough out of me before she sent me packing. At that moment, I was finally beginning to understand that everything that I need lies within me and only me.
OK! EXCLUSIVE: ADA WONG'S BIGGEST LOSER BLOG — THE WEAKEST LINK
At the weigh-in, I was surprisingly relaxed; but don't get me wrong, I wanted Final Four and I knew it was going to be tough to secure one of the top THREE spots. I would never want to be in a position to be forced to count on someone to save me, so it was very important that I stayed above that yellow line. When Brendan was the last to weigh in, I felt conflicted because I wanted him to make it but not if it meant pushing me below the line. It was so heartbreaking to watch when we all realized he had fallen below the red line. We've all become so close and gone through so much together that you can't help but want to make it to the end with everyone.
Article continues below advertisement
OK! EXCLUSIVE: ADA WONG'S BIGGEST LOSER BLOG — A TEAM DIVIDED
With the season coming to an end, there have been so many opinions and comments on the excessive gameplay. But looking at it from a "game" perspective, there needs to be a level of strategizing in order to keep yourself there. Obviously feelings and emotions play a huge part in all this — which makes it hard to be objective. But in the end, gameplay doesn't negate all the hard work everyone has put forth. And as a person who was at the Ranch — first hand, I can say everyone gave it their all and deserve all the successes that come with it.