NEWS
Adam Lambert Comes Out... Officially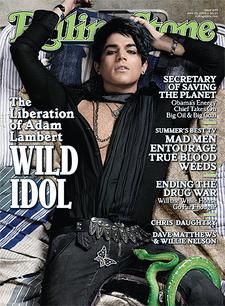 Drumroll, please... Hear ye, hear ye, citizens of the world: Adam Lambert is gay (cue unsurprised silence, and cries of "duh!").
Yep, American Idol's Glambert is officially coming out of the closet in the next issue of Rolling Stone, candidly admitting, "I don't think it should be a surprise for anyone to hear that I'm gay."
In the interview, the rocker opens up about his childhood, revealing, "I started to realize I wasn't like every other boy," as well as why he stayed officially mum on the topic of his sexuality for so long.
Article continues below advertisement
"Right after the finale, I almost started talking about it to the reporters, but I thought, 'I'm going to wait for Rolling Stone, that will be cooler,' " he says. "I didn't want the Clay Aiken thing and the celebrity-magazine bulls**t. I need to be able to explain myself in context.
"I'm proud of my sexuality," he adds. "I embrace it. It's just another part of me."
But don't expect him to be out marching against Prop 8 anytime soon, as he confesses he's not ready to be the poster boy for gay rights.
"I'm trying to be a singer, not a civil rights leader," he says.
We can just hear Perez Hilton's seething rage right about now...