NEWS
Alfonso Ribeiro Talks DWTS Controversy & The Carlton With OK!: 'I've Never Taken Any Dance Classes'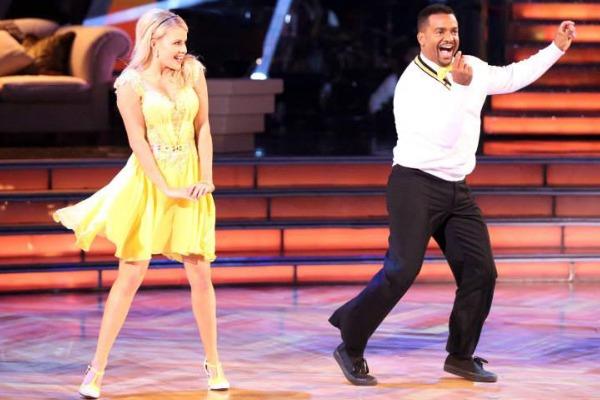 Alfonso Ribeiro danced his way into the hearts of The Fresh Prince of Bel-Air viewers with the signature move that defined the '90s: The Carlton. Now the suave shaker is at it again as one of the top contestants on Dancing with the Stars.
Ribeiro exclusively opened up to OKMagazine.com about the claims that his dancing experience gives him an unfair advantage, what it was like to finally perform The Carlton and how he will continue to stay on top.
Article continues below advertisement
"I've always wanted to do the show," The Fresh Prince of Bel-Air alum told OK! while promoting his #BBQ4Merica campaign with Wendy's. "When they finally came to me and offered me the opportunity to do this season I was totally into it and thought it would be great."
The actor was the show's breakout star during the season premiere. His jive with partner Witney Carson earned him a 36 out of 40, an impressive score that put him in the top spot of the scoreboard.
OK! Exclusive: DWTS' Alfonso Ribeiro Opens Up To OK! About Wendy's #BBQ4merica Campaign
"I certainly didn't come into this thinking I was going to be the best person on the show," he said. "I wouldn't say I'm the best because I definitely think Lea Thompson is pretty amazing and I think Janel Parrish and Sadie Robertson are also pretty amazing so there is a nice tight battle there."
But being a favorite to win the coveted Mirrorball trophy has come with its share of controversy. In addition to performing alongside Michael Jackson in a Pepsi commercial as a kid, Ribeiro was also the lead in the 1983 Broadway musical, The Tap Dance Kid. His dancing experience has caused backlash with many claiming the actor isn't an amateur like the other contestants.
Article continues below advertisement
"The only dancing I've ever done was tap dancing and that was yes, on Broadway, but they taught me to tap dance to do the show," he began. "I've never taken any dance classes. When people call me a professional dancer that's actually so incorrect. I've only taken a few jazz classes and obviously tap.
"But guess what? We're not doing any of that on this show," Ribeiro continued. "What we're doing is ballroom and Latin style dances that I've never taken and have absolutely no experience in."
OK! News: Watch Alfonso Ribeiro Do The "Carlton" on Dancing With The Stars
Ribeiro also insists that his rhythm and ability to mimic moves doesn't make him a professional dancer.
"Lea and Janel have a whole lot more dance training than I've ever had," he said. "There are other people on this show who have absolutely done and have a lot more dance experience and training than I have."
But Ribeiro hasn't let the controversy get to him. The contestant scored all 10s after performing a jazz routine to Tom Jones' "It's Not Unusual," finally performing The Carlton.
Article continues below advertisement
"I'm going to do the same thing I've been doing," he said. "Which is just work extremely hard every week and try to bring the best performance that I can bring."
You can watch Ribeiro and Carson on Dancing with the Stars Mondays at 8/7c on ABC. Do you want Ribeiro to win the Mirrorball trophy? Tweet us @OKMagazine.com!