NEWS
Ali Fedotowsky & Roberto Martinez: We Want to Marry on TV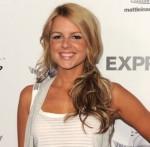 Since they fell in love on The Bachelorette three months ago, Ali Fedotowsky and Roberto Martinez are planning their big day, discussing anything from Ali's shoes to the number of guests, but they have yet to set a date.
The loved-up reality twosome are not opposed to a televised wedding, but for very practical purposes, reports ET Online. "We are definitely open to that idea," Roberto says.
Article continues below advertisement
"The money we can save from that we can invest in our lives together. It would be cool to share that moment with everybody and have my family experience that with us. I think that is what is important."
Ali agrees with her fiancé's financial reasoning. "Roberto has a big family," Ali says. "His mom was telling me she was thinking along the line of 700 at the wedding. That could get expensive.
"It just makes sense that we would take the money and invest it in our future and our potential children's future. We feel that that is what is important and what we should be focusing on."
Ali, who wore a beautiful yellow Alberto Makali gown for the proposal, will reprise the color for the bridesmaid's dresses.
OK! NEWS: ALI FEDOTOWSKY OPENS UP TO RYAN SEACREST ON FINALE
"There will certainly be yellow in the wedding. If not the dresses, maybe white dresses with a splash of yellow — a ribbon or something," she says.
Article continues below advertisement
She also corrects some reports about her big day: "I read people say that I was considering certain designers and I have never done that. I have made a couple of comments in the past about a certain comfortable pair of shoes I would like to wear at the wedding.
OK! EXCLUSIVE: CHRIS HARRISON DISHES ON FINAL ROSE SHOWDOWN
"I have thought about that. I definitely want it to be beautiful, simple and elegant. Whatever it is … if we were in paper bags dancing around a bonfire that would be perfect."
Roberto is as equally laid back as Ali. "I think what is important to me, obviously, is that she is there," he says. "Other than that my family. I will make sure we've got a little place to dance and have some good music."
OK! EXCLUSIVE: ALI DISHES ON CULINARY TRICKS FOR A BETTER BOD
How did Ali know for sure that Roberto was the one on their last date together in the rain in Bora Bora?
"Everything was so perfect," she says. "I didn't want to be with anybody else. At the end of the night, normally, I would be, 'Okay, I need to stop focusing on this guy and I need to start focusing on the next guy.'
Article continues below advertisement
OK! EXCLUSIVE: ALI'S SLIM-DOWN SECRETS REVEALED
"I wanted to focus on Chris L., but I couldn't focus on Chris. I just wanted to spend more time with Roberto. That is when I knew for sure. But in retrospect, looking back to the first night, that feeling I had when I first saw him was like nothing I've ever experienced. I think I fell in love at first sight."
With the quiet breakup between former Bachelorette star Jillian Harris and Ed Swiderski, not to mention Jake Pavelka and Vienna Girardi's explosive split, how will Ali and Roberto break the pattern?
OK! NEWS: ALI FEDOTOWSKY: JAKE PAVELKA'S TURTLENECKS DON'T MEAN HE'S GAY
"We are both simple," Ali says. "We appreciate the simple things in life. We don't want the helicopters and the crazy lavishness of all the dates.
"We just want to hold hands walking down the street. In terms of failed relationships, we realize that there have been a few, but we don't consider ourselves a Bachelor couple. We are, but we don't lump us into a category. We are just a couple in love."