NEWS
Alyssa Milano Still Has 'Lingering Side Effects' From COVID-19 Six Months Later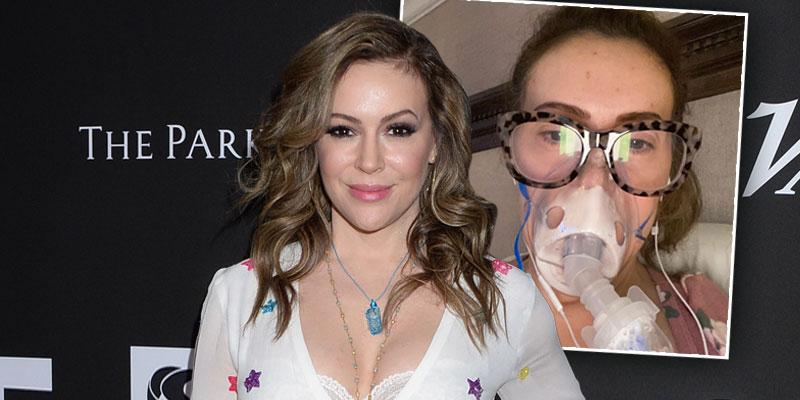 Alyssa Milano reveals she is still suffering from "lingering side effects" of the novel coronavirus — six months after being exposed.
"I still have shortness of breath," the 47-year-old said in an interview with Yahoo Entertainment in September. "I still have heart palpitations. I have, like, a high-pitched noise in my ear. My hair is falling out."
"It doesn't feel like you're only physically sick," she added. "It feels like there's hallucinations because of fevers, there's weird dreams. I think it's because the brain is affected. That's why people lose their sense of smell."
Article continues below advertisement
On August 5, the Who's the Boss? star revealed via Instagram that she had all of the COVID-19 symptoms in the spring, despite her tests being negative. "At the very end of March I took two COVID-19 tests and both were negative. I also took a COVID antibody test (the finger prick test) after I was feeling a bit better," she explained.
LIZZO, JOHN LEGEND & OTHER STARS REACT TO PRESIDENT DONALD TRUMP'S IMPEACHMENT
Article continues below advertisement
Milano posted a snap of herself from April 2 — after being ill for two weeks already — and wrote, "I had never been this kind of sick. Everything hurt. Loss of smell. It felt like an elephant was sitting on my chest. I couldn't breathe. I couldn't keep food in me. I lost 9 pounds in 2 weeks. I was confused. Low grade fever. And the headaches were horrible. I basically had every Covid symptom."
"After living the last 4 months with lingering symptoms like, vertigo, stomach abnormalities, irregular periods, heart palpitations, shortness of breath, zero short term memory, and general malaise, I went and got an antibody test from a blood draw (not the finger prick) from a lab," she shared. "I am POSITIVE for covid antibodies. I had Covid19."
Earlier in September, the Mistresses alum gave her followers an update on her health, explaining she is "starting to physically feel better" but is "still taking an aspirin ever 3 days to thin my blood, fish oil, vitamin D, C, zinc and a B complex. I still have occasional heart palpitations. I still forget my words (absolute worst part)."
Article continues below advertisement
THE KARDASHIANS, KENDRA WILKINSON, PINK& MORE IMPACTED BY CALABASAS WILDFIRE
While the mother of two — who is married to Dave Bugliari, 39 — is on the mend, she noted that she still gets "super scared" for her friends and family. "I don't ever want them to have this thing. It's a beast," she admitted.
Milano also took to Twitter last month to show "the amount of hair that is coming out of my head" as a result of COVID-19. In the video clip, she brushed her hair and several strands fell out. "Thought I'd show you what #Covid19 does to your hair. Please take this seriously. #WearADamnMask #LongHauler," she captioned the clip.