NEWS
Amanda Knox Gives Tearful First TV Interview Since Murder Trial, Hopes She 'Can Connect' With Slain Victim's Family One Day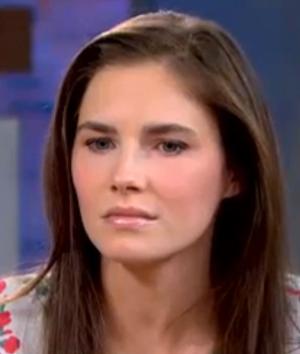 Amanda Knox appeared in her first live TV interview Wednesday since having her murder conviction overturned in an Italian court in 2011, and OKMagazine.com has a clip of her emotional outpouring.
The 25-year-old, who was convicted to 26 years in jail in 2009 for the murder of her roommate, Meredith Kercher, sat down with GMA's Robin Roberts, to talk about the trial, her time behind bars, her new memoir detailing the ordeal—Waiting to be Heard—and how she hopes to "connect" with Kercher's family one day.
Article continues below advertisement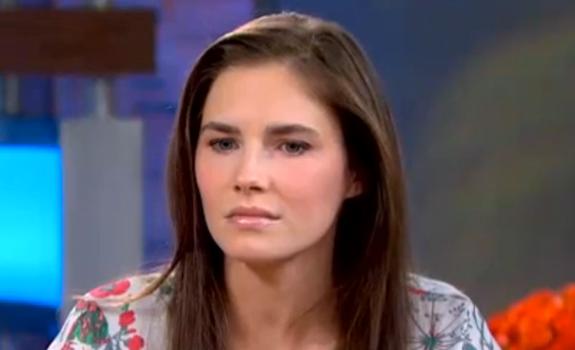 An emotional Amanda Knox appeared on GMA Wednesday morning promoting her new memoir, Waiting to be Heard
"I really hope we can connect one day," a tearful Amanda said, adding she hopes the family will read her book, even though they have publicly stated they will not.
"Meredith Kercher is the victim, Meredith Kercher died," Knox continued. "Her family deserved answers; the prosecution didn't give that to them.
"I still hope they'll read my book because in it I talk about Meredith, I talk about the relationship I had with her—and that is the little amount I can give them of her.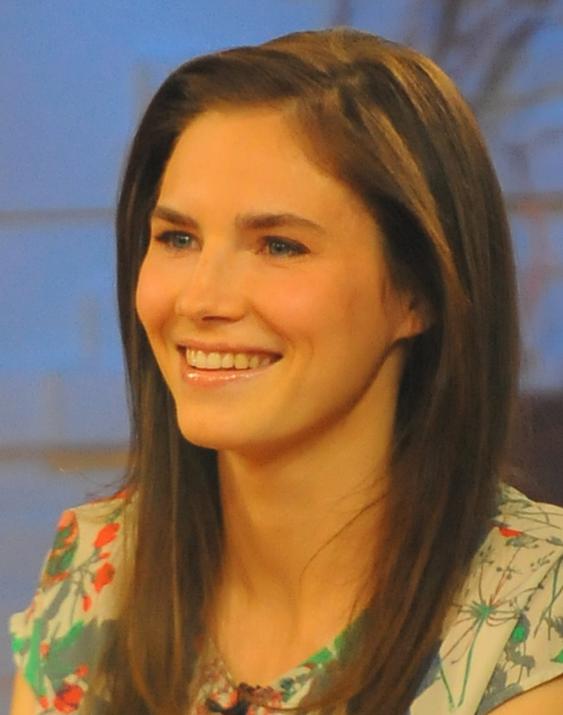 It wasn't all tears, during her interview Amanda managed to remain upbeat when talking about the future
"They're seeking answers and they deserve to have answers. I give every answer I can in my book. It's the first thing I can give to them... I really hope we can connect one day."
Article continues below advertisement
However, it seems unlikely Knox will be granted her wish, as Kercher's family has vowed they have no interest in ever reading her memoir, which she was reportedly paid a whopping $4million for.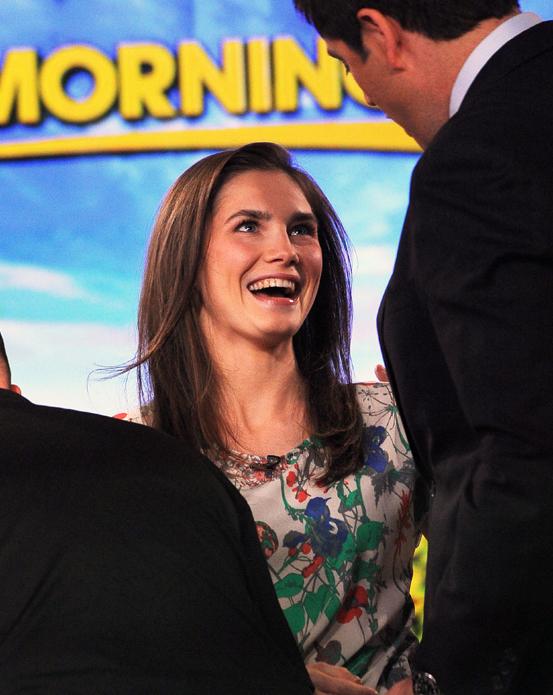 Knox was all smiles off camera as she waited for the interview to start
"We're not interested in this book, just like we weren't interested in the others about the case, and we won't read it," Meredith's sister Stephanie Kercher said in a statement on Monday.
"Meredith is the victim in this tragic case."
The family maintains their belief that Knox was involved in the murder, stating she could still be found guilty as prosecutors push for 2011's ruling to be overturned and for Amanda to return to Italy for a new trial.
MORE ON:
good morning america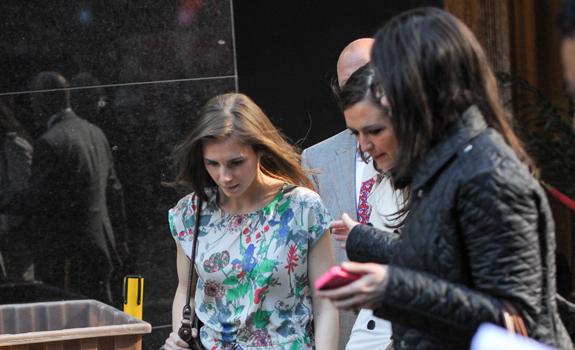 Knox kept her head down as she exited the GMA studios Wednesday and headed to her waiting limo
"The Italian legal system still has an appeal procedure under way and so the case is returning to a new court hearing. The sentence can still be overturned," Stephanie Kercher said in her statement.
Article continues below advertisement
Knox told Robin Roberts she was "grateful" for the opportunity to tell her side of the nightmare story—which began in November 2007 after Kercher was found sexually assaulted and stabbed to death at their apartment in Perugia.
In her memoir, Amanda details the nightmare journey she went through since being convicted of her roommate's murder
"I wanted people to know who I was because I felt as if I was lost in the middle of this storm," she said. "I was taken over. I wanted people to know precisely what I was thinking."
She went on to explain her widely reported upon bizarre behavior immediately following the discovery of Kercher's body, which included making out with her then boyfriend, Rafaele Sollecito—who was convicted of the murder also, and sentenced to 25 years—and laughing and joking around with cops.
"It's the greatest hurdle that I've had to come across in defending myself," she said. "Until you're in a situation that is as incredible, surreal and overwhelming and tragic that I was...
Article continues below advertisement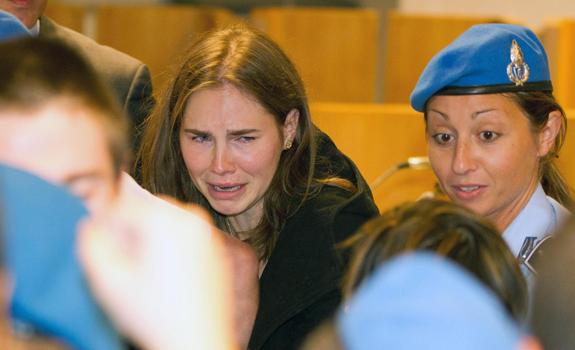 An emotional Amanda couldn't hold back the tears after having her murder conviction overturned in 2011
"I had to learn how to deal with it. I was 20, I was in a foreign country, I barely spoke the language and my friend was murdered and I'd never in my life experienced anything like that.
"I was clueless all the way through. I had to learn how to survive."
Both Knox's and Sollecito's convictions were overturned in 2011—both had spent four years behind bars.
Meanwhile, Rudy Guede, whose DNA and bloody footprints were found all over the crime scene, is currently serving a 16 year sentence for Kercher's murder.