NEWS
American Idol: Career Boost or Curse?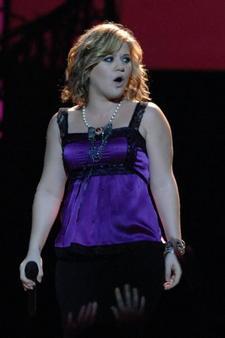 Tonight on Fox, American Idol is back for its eagerly awaited seventh season and after looking back at the contestants who have been able to turn a spot on the show into superstardom — and those who have yet to parlay their brief TV fame into a platinum fortune — OK! wondered: Is winning American Idol a career-maker or career-breaker?
SEASON ONE:
In the inaugural round of the hit show, America selected bubbly Texan Kelly Clarkson as their American Idol, and they appear to have picked a winner. Her second album, Breakaway, went multiplatinum in 2004, earning her two Grammy Awards. And to date, Kelly has sold over 18 million albums worldwide. Perhaps the only shadowy spot on her post-Idol run was the ill-conceived film musical, From Justin to Kelly, co-starring that season's runner-up, the poofy-haired Justin Guarini (who all but vanished from the spotlight.)
Article continues below advertisement
Verdict: She's a star, but she needs to remember where she came from — and to not make From Justin to Kelly 2.
SEASON TWO:
It was the guys' time to shine on Idol, as voters picked soulful Teddy bear Ruben Studdard over unlikely pop star Clay Aiken. However, despite Ruben's initial success — his 2003 album, Soulful, debuted at number one on the Billboard 200 album charts and his 2004 gospel album performed well — recent years haven't been as kind to Ruben. His third album, The Return, was released in 2006 to disappointing sales. And in 2007, Ruben was dropped from his record label, J Records.
Verdict: Could use a little Idol injection in his record sales.
SEASON THREE:
This season's winner Fantasia Barrino has certainly done well for herself. Nominated for a total of seven Grammy Awards for her albums Free Yourself and Fantasia. In 2007, she made her Broadway debut, starring as Celie in The Color Purple and received a Theater World Award. However, Fantasia's accomplishments have been overshadowed by those of fellow finalist Jennifer Hudson, who not only managed to score a role opposite Beyoncé in the big-screen hit Dreamgirls, but who also won a Golden Globe Award and an Oscar for her efforts.
Article continues below advertisement
Verdict: She's got to forget about Broadway and get herself one of those Oscars before it's "Fantasia who?"
SEASON FOUR:
Carrie Underwood is probably Idol's biggest success story to date. She's the first AI winner to sweep up honors at all three major Music Award Shows in the same awards show season, including the Grammys, American Music Awards and Billboard Awards. Her debut album, Some Hearts, was certified platinum six times over. Her second album, Carnival Ride, was released in 2007 and so far has sold over two million copies in the U.S. alone. She has sold over 13 million albums to date worldwide in the last two years.
Verdict: She's the golden standard for all Idol finalists to follow.
SEASON FIVE:
From his first audition in front of Randy, Paula and Simon, Taylor Hicks was the grey-haired dark horse of American Idol. However, AI's most unlikely champ was also its most disappointing artist. Though his debut single, Do I Make You Proud, debuted at the number one spot on the Billboard Hot 100 chart and his self-titled album was certified platinum, the singer was not able to live up to expectations and parted ways with Arista Records in January 2008. A similar fate befell runner-up Katherine McPhee, who was recently given the boot by RCA.
Article continues below advertisement
Meanwhile, Chris Daughtry, who came in fourth in season five, sold more than three million copies of his debut album. He is the most successful AI contestant in history who never made it to the finals.
Verdict: Sorry Taylor, but it looks like Daughtry is the real American Idol.
SEASON SIX:
It's a little too early to judge the success of season six champ Jordin Sparks. Her single "Tattoo" reached the top ten, and tied with Carrie Underwood's "Before He Cheats" for the highest charting single from an Idol winner's debut album. Time will only tell if she'll turn her Idol win into a viable recording career.