NEWS
Former 'American Idol' Contestants Make Finale Predictions!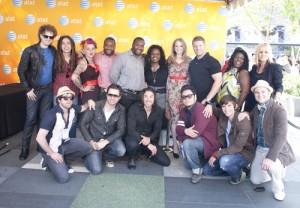 More than 15 American Idol stars were out at L.A. Live outside the Nokia Theater yesterday afternoon for the first ever AT&T Idol Celebration event. Idol faves like Ace Young, Jason Castro, Tim Urban, Michael Johns, Kimberly Locke, Kimberly Caldwell and so many more were on hand to perform, meet and greet the fans and one lucky fan was even lucky enough to win $10,000. OK! chatted with the Idols just mere hours before Lauren Alaina and Scotty McCreery took the stage for their final performance show to find out who they were rooting for and who they think will take the American Idol crown tonight.
Article continues below advertisement
Jason Castro, Season 7: "I am a Scotty fan. When I first saw his audition, we were over at my wife's parents' house. We loved him. His voice is crazy. He has that low deep voice. Both the finalists are so young. It's so cool."
OK! VIDEO: WATCH SCOTTY MCCREERY'S AMERICAN IDOL FINAL PERFORMANCES; HAVE THE JUDGES TURNED ON HIM?
Tim Urban, Season 9: "My little sister loves Scotty. This one I am really confused about. They appeal to a certain demographic. So one of them needs to do a non-country song and put a spin on it. Like Kris Allen did with Heartless. As soon as he did that, that's what really got him there. But doing what we expect, it could be anyone."
Nikki McKibbin, Season 1: "I am definitely rooting for Scotty. I am not a huge country music enthusiast. But the kid just has something. He has the talent."
OK! NEWS: ON THE SCENE AT AMERICAN IDOL — FINAL PERFORMANCE SHOW, SCOTTY VS. LAUREN
Kimberly Locke, Season 2: "My two favorites got voted off a long time ago. Jacob and Casey! May the best person win. I am going to go for Scotty. It's about strategy and song selection and really just owning it."
Article continues below advertisement
Elliott Yamin, Season 5: "I am rooting for both of them. They are both really talented. I have a feeling that Scotty is going to win. I think a girl can still win for sure. Of all the girls I wouldn't have picked Lauren, I thought Haley was going to be there. And everyone thought Pia was going to be there. And James is another I thought would make it further. Is this Nashville Star or American Idol? They have both been able to get away with not having to waver from their styles. Scotty has done a country song every single week. He has been to stay true to his style every single week. I am not a big fan of his voice but he's a really nice kid."
OK! VIDEO: WATCH LAUREN ALAINA'S FINALE PERFORMANCES — AMERICAN IDOL JUDGES PREDICT HER WIN
Michael Johns, Season 7: "I have lied in the past and said I have, but I have actually watched this season. I really really enjoyed this season. Rooting for Lauren! I picked her at top 11. She has such a freshness about her. She is so real. She has a big heart and she can sing her butt off. She is a good role model for young girls. They are both going to have great careers but I am Team Lauren this year. 100% a girl can still win. I think that she is going to get a lot of the votes that Haley had. It just comes down to fanbase. You are not going to lose the thing on one night. They are both doing country, so they are both in their wheelbase. It will come down to their fanbase."