NEWS
'American Idol' Recap: Hollywood Week! Drama Already as Symone Black Faints & Falls Off Stage!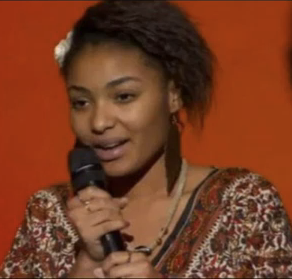 The auditons are finally over. No more screeching singers and crying hysterics. It is time to get down to business. Over 300 people were sent to Hollywood, but only 24 will make it to the live shows. Let's get to it and let the drama begin!
First off, the contestants have to perform in groups and the judges will say who will stay and who will go. But of course, they only show you certain contestants. There are always the ones they don't even show, who the audience will grown to love. Will that happen this year?
Article continues below advertisement
Elise Testone shows off her powerful voice, Baylie Brown pours out her country twang and Hallie Day sounds great! Will they make it through? They all have reason to celebrate!
Jen Hirsh just doesn't want to fidget too much. And she does it right, with amazing vocals. Lauren Gray, well, is just not as good. Just a bit all over the place. But they both made it through. WOW.
Fan favorite Philip Phillips is up next, and he admits he has never been on a plane before. This is a whole new world for Phil. So, he is going by Phil now? Smart idea. He does an R&B spin through his song and is missing the use of his guitar. Don't love it as much, he has talent, but he has to drop the weird faces when he is singing.
Article continues below advertisement
OK! NEWS: AMERICAN IDOL RECAP: HOUSTON HAS A PROBLEM AS JENNIFER LOPEZ BUTTS HEAD WITH HER FELLOW JUDGES
Reed Grimm takes on a unique but an inspired choice with "I've Got a Golden Ticket" from Willy Wonka. Weird, but it was really great. We just get this feeling he could end up becoming the joke performer of the season.
Travis London is also in their group, with his tough past, we hope he does well. But sadly, Travis gets cut, while Reed and Phillip move on. Surprised, we thought Travis would at least make it through the first cut. Other auditions favorites going home: Ramiro Garcia, Wolf Hamlin and Jenny Schick.
Adam Brock didn't stand out to us in the auditions, but he has an amazing gospel voice even if he does look a bit like Danny Gokey.
And it's finally time to see more from Jane Carrey, Jim's daughter! Her performance kind of has a country tone but she is not blowing us away. Things don't look good for Jane. Sadly, Jane gets cut, but Adam makes it through.
Ladies man David Leathers stood out in the auditions, as did Shannon Magrane. And Shannon continue to show her star power with her growling voice, as did David with his charming stage prescence.
Article continues below advertisement
OK! NEWS: AMERICAN IDOL EX NIGEL LYTHGOE ON THE VOICE: "I THINK IT'S GIMMICKY AND NEEDS STRONGER TALENT"
Jessica Phillips puts her away nerves with her boyfriend in Hollywood with her, as she has been there for him as he recovered from a stroke. Jessica has a beautiful voice and sails through to the next round, as do David and Shannon.
Ericka Van Pelt, Creightonn Fraker and Aaron Marcellus continue the winning streak of the night and blow the judges away. Lauren Mink sounds like the nerves go to her, we are not sure she will get through, but Jeremy Rosado definitely did not succumb to nerves. He has some killer pipes. Will they get through?
Symone Black wraps up the night with "Sittin' on the Dock of the Bay," she is okay, but needs to grow a lot in her vocals. But out of nowhere, she just faints and falls of the stage! Is she going to be okay? To be continued....
We will have to find out tomorrow night when American Idol airs at 8 p.m. on FOX.