NEWS
'American Idol' Recap: Portland Power! Britnee Kellogg and Jessica Phillips Steal the Show!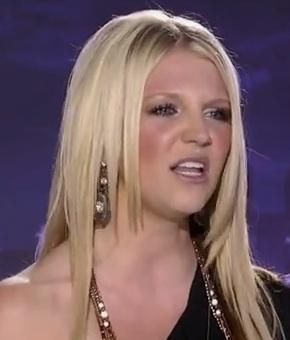 It's time for American Idol to hit up another city that they have never stopped in before: Portland, Ore. In fact, this is the first time they have gone to the Pacific Northwest since season 6. There was some talent to be found, let's check out the highlights of the night!
Brittany Zika had a dream that she was singing "Gravity" with Sara Bareilles. For her birthday, she ended up at a concert and somehow made that dream happen. Wow. Now she wants this dream. Belts out "The Story" by Brandi Carlisle. Her voice has a unique tone to it and she puts a beautiful spin on it. Jennifer Lopez, "Your tone is so pretty." Randy Jackson, "This is for real."
Article continues below advertisement
OK! NEWS: AMERICAN IDOL RECAP: PITTSBURGH PIZAZZ! A JUSTIN BIEBER LOOKALIKE AND HALLIE DAY WOWS THE JUDGES
Jermaine Jones believe that it's his time, his turn. But does he have it? Belts out "Superstar" by Luther Vandross, a song that was huge for Ruben Studdard in season two. He has succhhh a deep voice. It's kind of weird, but works at the same time. Randy, "When you show the dynamics with low and softness, I love it." Steven Tyler, "Really spiritual voice, it took me away." Boy is he nervous, the sweat is pouring down his face. No worries for him, he is going to Hollywood.
Britnee Kellogg (pictured) is a gorgeous girl and also has two beautiful boys at home and tells an emotional story of being held back by her basketball player husband who cheated on her. Now it's her time. She sings a very fitting song, "You're No Good" and she has such a beautiful voice, just blows you away. She is going to do very well in this competition. Randy, "I like the attitude. I like the vibe." Jennifer, "I love the rasp, the tone."
Article continues below advertisement
OK! NEWS: AMERICAN IDOL RECAP: ASPEN FAILS TO IMPRESS AND JENNY SCHICKS GETS A KISS FROM STEVEN TYLER
Romeo Diahn is a refugee from Liberia, they were sent to Ghana, hoping for a chance to make it to the U.S. and have a better life. "We waited so long, and we finally got our chance." Now he wants this chance. His family doesn't even know who Ryan Seacrest is as they wait outside. Romeo's accent puts such a different spin on his voice and his smile as he sings and is quite endearing. Jennifer, "I like your vibe and flavor and where you will go in this competition." But he is getting his chance to prove her wrong.
Naomi Gillies sure is kissing up to Steven by singing "Cryin," and sounds so great. She is definitely doing the song justice. But will Steven like it? Steven, "You belted it out. Loved your voice." Jennifer, "The minute you opened your mouth, I was like, wow." She is going to Hollywood!
Jessica Phillips tells quite a sad story of her boyfriend having a stroke and not remembering her. Sadly, sounds like it is straight from the plot of The Vow. But this is a true story and she is now his caretaker. Jessica and her boyfriend met doing music, she hopes they can get back to that. She takes on Faith Evans and shows off the power in her voice. Three yeses and she is straight to Hollywood. Jessica is amazing, hope she can go far.
Who was your favorite of the night. The auditions wrap up tomorrow night on FOX at 8 p.m. ET!