NEWS
'American Idol' Recap: Pia Picks Up the Pace; James Durbin Slows it Down During Rock N' Roll Hall of Fame Week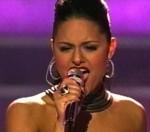 The remaining nine contestants had a fun week on American Idol, choosing songs for Wednesday's performance night based on a Steven Tyler loving Rock N' Roll Hall of Fame theme. While one would think that typical rocker James Durbin would shake the crowd with an upbeat number, it was the mostly ballad singing Pia Toscano who picked up the pace instead.
OK! NEWS: AMERICAN IDOL BLOG — THE TOP 9 PERFORM ROCK AND ROLL HALL OF FAME SONGS
Article continues below advertisement
"Vocally you proved to us, you proved to everybody, that you can sing an up-tempo," Jennifer Lopez said after Pia belted out a Tina Turner number, "River Deep, Mountain High." But the gorgeous judge urged the vocalist to drive it one step further in her performances. "I'm going to push you...I'm here to help you!"
After the show, Pia told reporters that the support of audience member Christian Slater's daughter really cheered her on the stage. "It felt amazing. Christian Slater's daughter spoke right before I was about to go on and she wished me luck and that just gave me that extra push. And I was really nervous."
OK! VIDEO: WATCH STEVEN TYLER & CARRIE UNDERWOOD ALMOST KISS ON STAGE AT 2011 ACMS!
Doing equally as well, but changing up his pace, James Durbin decided to take this week's theme and show the judges a more emotional side with his moving version of "While My Guitar Gently Weeps." Jennifer was so impressed with James showing an entirely "new dimension" to his music and proclaimed, "I loved it!"
Randy Jackson was just as wowed by 17-year-old Scotty McCreery, who brought his country twang to Elvis Presley's "That's Alright Momma," and amped up the entire audience. "Scotty's in it to win it!" the panelist shouted.
Article continues below advertisement
OK! VIDEO: WATCH THIA MEGIA & NAIMA ADEDAPO'S JOURNEY ON AMERICAN IDOL
Another knockout of the night was Casey Abrams with Credence Clearwater Revival's "Have You Ever Seen the Rain." After playing the upright bass on stage, Jennifer Lopez said she "would pay to be in the front row" at any one of Casey's concerts and Steven agreed calling his set, "Revolutionary!"
The remaining girls in the running, Lauren Alaina and Haley Reinhart, took the stage by storm, as well. While Haley belted out a Janice Joplin classic, "Pieces of My Heart," Lauren showed off her vocals with "You Make Me Feel," which mentor Will.i.am. said was a brilliant mix of "R&B and country."
OK! NEWS: WATCH STEVEN TYLER JOKE ABOUT LAUREN ALAINA'S HALF-DRESS ON AMERICAN IDOL
As for the rest of the guys - Jacob Lusk stuck to his guns and picked a not-so-rock "Man in the Mirror," as Stefano Langone slowed it down to "When a Man Loves a Woman." Paul McDonald closed the show with a taste of Johnny Cash and a rendition of "Folsom Prison Blues."
Overall, it was a very fun night on American Idol, which judge Steven Tyler was able to wrap up perfectly in just a few words.
"Long live Rock N' Roll!" the Aerosmith icon chanted.
Written by Gena Oppenheim