NEWS
'American Idol' Top Four: Crystal & Big Mike Juggle Parenthood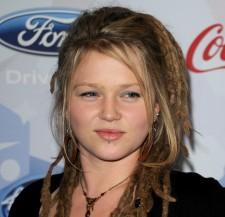 Coming into the competition on the ninth season of American Idol, Crystal Bowersox, made it clear she was here to provide a better future for her family, and her son, Tony.
"I hope he will grow up, look back, and be proud to know that his mom did everything she possibly could to make his life better," Crystal, 24, tells OK!.
AARON KELLY LEAVES 'IDOL,' HEADS BACK TO SCHOOL
Big Mike's daughter, Laila Lynche, was born the day of his Hollywood audition, and now the two Idols find themselves with having more in coming then being in American Idol's Top Four.
Article continues below advertisement
"I think we bonded off the bat because of that," Michael tells OK!, "You cant help, but look up to someone who is really trying to do it for their family, and is so talented."
OK! INTERVIEW: 'IDOL' CAST OFF SIOBHAN MAGNUS
Even when Crystal and Big Mike have the slightest bit of time to themselves, they are taking advantage to help each other out, not with their musical arrangements for the next show, but how to handle their little ones.
Crystal explains to OK!, "Yesterday between the show and commercial break, we were talking about parenting techniques and thing. What to do in a certain situation with your kid."
'IDOL' RECAP: ELLEN JUDGES HER FIRST SHOW
But with both young parents in one of America's largest talent competitions, what challenges are they faced with?
"One of the craziest thing for us is the time juggle," Mike explains. "Making sure you spend enough time with the wife, and with the baby. She's making sure she spends enough time with her guy, and the little guy."
Recently the Idols have had a little more time to spend with their family and children now that they have a tad bit more leisurely time to spare, but its really coming down to the wire with the finals only two weeks away.
Big Mike tells OK!, "I think that takes as much brain power as coming out on stage, and keeping it all in balance."
Jaime Foxx will play mentor to the Idols this week, and they will sing their own renditions to their own individually picked songs for "Songs of Cinema."