NEWS
American Idol's Casey James: I Absolutely Deserve to Go Home Tomorrow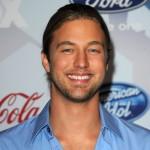 The top five contestants remaining on American Idol paid homage to the legendary Frank Sinatra this week while being full-time mentored by Harry Connick Jr. But Ol' Blue Eyes and the judges might not have been so impressed with the performances – especially Casey James'.
OK! NEWS: SIOBHAN MAGNUS ON IDOL: I'M NOT GOING TO CHANGE TO PLEASE OTHER PEOPLE
The lady-swooner earned praise and respect from the judges last week for his lovely rendition of Shania Twain's "Don't" making it his "best performance yet." But this blue eyes looked a bit off on stage without his ever-present guitar.
Article continues below advertisement
While performing Sinatra's "Blue Skies," Casey looked nervous, and as Simon Cowell said, a "bit awkward." (Although his lavender button-up shirt, navy blue vest get-up might have slightly made it for it. Don't you think, ladies?)
OK! EXCLUSIVE: AMERICAN IDOL SHOWS LADY GAGA THE MONEY
Casey admitted to OK! he was taken out of his own comfort zone with Sinatra classic hit, "I am not a guy that's ever going to go out there and do something like that without my guitar, so I did the best that I could."
During his critique, Simon even semi-hinted, but with a rather serious tone that this could have been his last performance. Randy even stated it was his "worst performance of the season." But even the hands-on mentoring from the three-time Grammy winner Harry Connick Jr., might have not been enough.
"I might not be here next week," Casey tells OK!. "Honestly, out of all of us, I absolutely deserve to go home tomorrow, based on this performance."
Article continues below advertisement
CLICK HERE FOR ALL OF OK!'S AMERICAN IDOL NEWS!
Fellow Idol Crystal "Mama Sox" Bowersox – who also didn't get any rave reviews from the judges, but as usual managed to sound simply lovely with her rendition of "Summer Wind" – snapped with, "I'm going to smack you Casey James!"
"Hey, if I nailed it and they gave me good comments, I'll tell them that they were right on the money," Casey explained. "But let's face it, it wasn't one of my best performances."
OK! NEWS: AMERICAN IDOL — WHAT WASN'T ON TV FOR SIOBHAN'S ELIMINATION
But unlike last month when Big Mike was in the bottom three, and the judges opted to use their only magic "save" on him, they will not be able to save Casey – or any of the other Idols from continuing on to the next round.
Tune in to Fox tonight for the results show to see what American Idol will have to pack their bags, and say goodbye to Hollywood.