NEWS
Siobhan Magnus on 'Idol': "I'm Not Going to Change to Please Other People"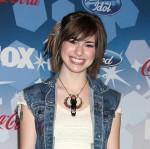 American Idol castoff Siobhan Magnus told reporters in a press conference call today bout her show journey and her future plans, which include everything from "theater to film and recording and performing for whoever wants to hear me scream."
OK! EXCLUSIVE: AMERICAN IDOL SHOWS LADY GAGA THE MONEY
The 20-year-old glassblower from Massachusetts often seemed like a female Adam Lambert as she wore flamboyant outfits and entertained the crowd by hitting her trademark high notes.
Article continues below advertisement
But did Siobhan live by the scream and die by the scream? After her Tuesday night high-octane rendition of Shania Twain's "Any Man of Mine" caused judge Simon Cowell to say she sounded like she was giving birth, Siobhan was voted off the show.
OK! NEWS: AMERICAN IDOL — WHAT WASN"T ON TV FOR SIOBHAN'S ELIMINATION
The singer sighed of her elimination last night and getting condolences from her fellow Idols, "It was hard because we're all so close. We got to talk afterward and they said we'll miss your personality and sense of humor."
Of the five Idols who remain in the FOX competition, Siobhan said, "I'm especially close with Lee Dewyze. We formed such an amazing friendship. We clicked and I was so glad to have him there." She remarked of everybody on the show, "we'll be friends forever. I can honestly picture any of them winning."
CLICK HERE FOR ALL OF OK!'S AMERICAN IDOL NEWS!
Meanwhile, Siobhan revealed to OK! her hometown boyfriend has been particularly helpful while she went through her Idol experience and finished sixth.
Article continues below advertisement
"He's been great this whole time. There's a kind of pressure on him throughout this that a lot of people don't recognize or think of — him being able to be strong while we're apart has been extremely helpful. I knew that I could call him every night and just vent about whatever happened that day if I was really happy or if I was really sad. He was in it with me even though we were 2,000 miles apart. He definitely played a huge role in getting me through all this."
Siobhan said she stuck to her guns during Idol, never changing her quirky style. "I've always been an independent person, stubborn and strong-willed. I'm not going to change to please other people."
OK! INTERVIEW: IDOL CASTOFF TIM URBAN
And she's glad because fans, especially young girls, have told the singer she gives them the confidence to be different. "It's a good thing to be who I am." Siobhan added that she's "been brought to tears" by the "positive feedback" from viewers. "We're all perfectly made as who we are."
On her future plans, she said, "It's the end of one thing and the beginning of a new thing. I'm so grateful." She aspires to take her big pipes to a Broadway show like Phantom of the Opera or Jesus Christ Superstar. "I love acting and singing and the two of them together is so much fun." Siobhan also loves horror films and has vowed to appear in one!