NEWS
American Idol's Crystal & Lee: In It To Win It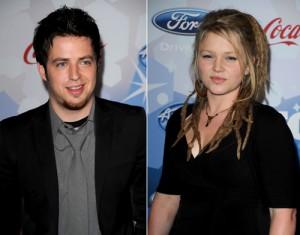 The week before the American Idol season finale, the final three contestants sang two numbers: one of their choice, the other selected by the judges - and it's clear who's in the fight for the title of the next American Idol.
OK! NEWS: AMERICAN IDOl'S MOVIE NIGHT WITH JAIME FOXX
Casey James began the show with his rendition of Eric Hutchinson's "OK, Its Alright By Me." This was the moment of the young Texan's life, but he managed to just underperform. Randy Jackson and Kara DioGuardi, the judge who has supported him throughout the entire season, selected for him John Mayer's "Daughters." But the guitar-shielding crooner still didn't blow any of the judges away including Kara.
Article continues below advertisement
Casey did manage to maintain his positivity. "I've been doing music all my life, that's not going to change" he told reporters. "So, this I'm pretty sure is going to give me the capability to do that on a much bigger level. I'm so grateful, no matter what happens."
OK! NEWS: RYAN SEACREST DISHES ON AMERICAN IDOL
Crystal "Momma Sox" Bowersox selected a rather no-brainer for her bluesy style with Melissa Ethridge's "Come To My Window." Crystal was mostly praised for her rendition and by making the right choice, and retaining her originality. Crystal's own idol, Melissa, watched her rendition from the live studio audience.
"She knew I was singing her song, but I didn't want that to be part of the show," she explained. "It's a song I have always loved and always have wanted to play, and I think I performed it well."
Her second song which was selected for her by Ellen DeGeneres was Paul McCartney's "Maybe I'm Amazed." And she gave the judges and her fans exactly what they wanted to hear. The Ohio native proved she was in it to win it! All thanks to Ellen!
Article continues below advertisement
Lee DeWyze crushed the competition tonight by showing everything he's got with Lynyrd Skynyrd's "Simple Man." The judges praised him for his impeccable song choice, and his emotional connection to the song he belted with passion. Lee further proved he's feeling like he can win it with his show-stopping rendition of Leonard Cohen's "Hallelujah," which earned him a standing ovation.
Simon Cowell, who has managed to give Lee a difficult time with his semi-harsh criticism, specifically chose the song for the Mt. Prospect, Illinois native. The controversial judge and the finalist have managed to build an equal admiration for one another since Hollywood Week.
"He said some stuff to me where I was like, damn, this guy is mean!" Lee told OK! "Since then, time has gone by. But once he told me it was "Hallelujah," I was like, really? I'm glad I did, because this song I did is one I care about a lot."