NEWS
Amy Winehouse Not Allowed Into USA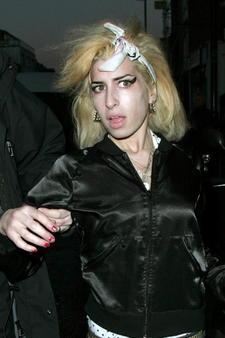 No visa means no Grammys for Amy Winehouse.
The U.S. Embassy denied the troubled singer's request for a visa on Thursday, prohibiting her from attending the 50th annual Grammy Awards on Sunday.
'"Amy has been progressing well since entering a rehabilitation clinic two weeks ago and although disappointed with the decision has accepted the ruling and will be concentrating on her recovery," her rep said in a statement.
Article continues below advertisement
Amy entered rehab after footage surfaced of her binging on crack cocaine two weeks ago.
The 24-year-old is nominated for six Grammys, including the biggies: Best New Artist, Record of the Year, Song of the Year and Album of the Year.
UPDATE: Entertainment Weekly is reporting that Amy will still be performing at Sunday's show — via satelite.
The Grammy's will be broadcast live, starting at 8 p.m. ET, so that means Amy won't go on until at least 1 a.m. London time. Sources say if she wins, Amy will accept her award(s) via satellite as well.