NEWS
Angelina Interview — Shiloh Asked If She Could Have "A Dead Pet"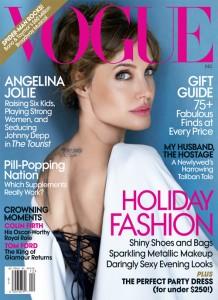 Every time Angelina Jolie has a movie coming out we get to learn a little bit more about what life is like living in the Brangelina Bunch. For the December issue of Vogue, Angelina talks about her new film The Tourist with Johnny Depp and her life with Brad Pitt and their six kids.
OK! GALLERY: ANGIE & BRAD STICK TOGETHER ON SET
Angie and Brad have six children together, but that doesn't mean the actress had planned to have a large family.
Article continues below advertisement
In her interview with Vogue, Angie reminds them she didn't have all her children biologically when she's compared to other famous large families.
"I didn't have all my children," she explained, but she did have three.
"I only planned for two!" Angie says referencing her twins Vivienne and Knox. "To each his own. It's one of those things. How you build your family — you have to know what you're capable of handling and how your children will relate to each other. Maybe if you have one child and that child has a lot of needs, you realize you cannot give more attention to another.
"Sometimes you just know as a parent," she said. "We felt we could handle more children, and we have a very happy, very full home."
OK! GALLERY: BRANGIE CONTINUES TO BUM AROUND BUDAPEST
And all six children have their own unique personalities that helps keep their home happy.
"Shiloh found a dead bird, so she came in and said, 'Can I have a dead pet?' " Angie remembered. "And I'm... 'Uh-uh, I don't think it's healthy, honey. I think they have to put him in a box,' and I had to run out to find, like, a taxidermy bird. I just worked it out for her."
Article continues below advertisement
Her six-year-old son Pax has a different passion rather than animals — he loves to cook!
"He's a better cook than me," Angie said. "Pax likes to cook."
But she still tries to cook for her kids and 9-year-old Maddox appreciates it.
"He's just this little man that's very supportive of me — it's like he's raised me a bit," she explained. "So I cooked them all breakfast before school this morning, and he has that kind of 'Thanks, Mom! Good job!' "
Angie and Brad's children are studying their native languages and are enrolled at Lycée Français international school so they "get on with lessons as normal because the instruction is the same the world over."
Pax's nanny speaks Vietnamese to him, Maddox has a Cambodian-speaking nanny and Angelina says, "We have not yet attempted Amharic" for Zahara who is from Ethiopia "but we will one day.' "
From starring in films, traveling for the UNHCR and being a mom, it doesn't sound like Angelina will be slowing down.
"My children are from the countries that I work in," Angie said. "I don't see my family as a global family. I don't see it separate. So when I look at my kids, and I wake up and hear something's happening in Pakistan, I think: It's Asians, and my children are from that part of the world. Those kids are very much like my kids. So I'm happy to be able to go."