NEWS
"Angie" & "Jen" Visit the OK! Offices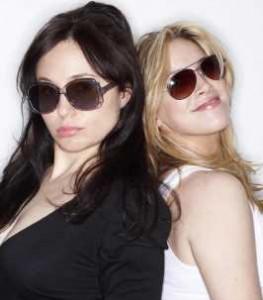 Jennifer Aniston and Angelina Jolie are stranded on a deserted island together forced to face their past and Brad Pitt is unconscious: It's a scenario of cringe-worthy and unimaginable comedic proportions that Sara Chase and Christina Casa act out in their hit play Jen and Angie. This week OK! was lucky enough to have the duo perform the play, written by Casa and Laura Buchholz.
The ladies were spot on with their impressions and jokes that go beyond surface knowledge of the stars, such as Angelina's lack of friends, Jennifer's neediness and their obsessions – Angelina's with death, sex and saving the world and Jen's with being America's sweetheart — Courteney Cox Arquette and self-help.
Article continues below advertisement
"It just seems like Jen is really needy and just calls people, like she has so many life coaches and yoga coaches and it's like she's so beautiful and talented," Casa tells OK!. "It's all done out of love but it does seem like she's kind of annoying like that. You know what I mean?"
OK! EXCLUSIVE: JEN ANISTON IS A TECHNOPHOBE
"I remember when Jennifer first started to become really popular and it was because men liked her and women really wanted to be her best friend," Chase says. "And I think with Angelina, a lot of women don't like her. Like you would hookup with her but you wouldn't want to go shopping with her."
Adds Casa, impersonating Angelina: " 'Oh, let's make some filters to make portable water for orphans in Uganda.' Angelina doesn't shop."
The response was so big when they first performed the play, first in L.A.and later in NYC at the Upright Citizens Brigade, that it reached all the way up to the stars themselves.
"Our PR guy in L.A. reached out to Jennifer Aniston and he said she won't be coming but she's aware of the show," Casa tells OK!.
Article continues below advertisement
OK! NEWS: ANGELINA JOLIE CHOOSES LEAD ACTRESS FOR BOSNIAN LOVE STORY
Since the success of the play, each star has gone on to have other career hits. Casa performed a multi-character solo piece in "Don't Cry Out Loud" and played another celebrity — Jodie Foster in a sketch on sickpuppy.tv.
Chase just wrapped the off-Broadway show The Toxic Avenger and recently filmed cameos in Adam McKay's The Other Guys and Arthur, where she played a TMZ reporter in film starring Russell Brand.
OK! NEWS: JOHN'S NOW A CHANGED MAN FOR JEN
Whether or not her scene makes the cut, the role was fitting for the star who spent years playing a celebrity followed by the media – a role she would hope Jen would forget about if they ever met.
"I would never tell her that I make fun of her and get paid for it," Chase says. "Never."
OK! VIDEO: ANGIE & JOHNNY KISS IN THE TOURIST
As for Casa?
"I'm such a big fan of both of them but if I saw Angelina, I would probably stare her down," Casa says. "Or make the lips at her."
CHRISTINA AND SARA PERFORMING AT OK!'S NYC OFFICES: