NEWS
Anthony Weiner's Sext Friend Traci Nobles on 'Today': "I Didn't Really Think About His Wife"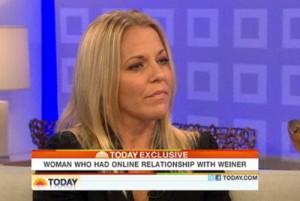 Traci Nobles is a cheerleading instructor in Georgia who has admitted to being a sext friend of former congressman Anthony Weiner. Traci appeared on the Today show today to set the record straight that she never discussed Anthony's wife, Huma Abedin, during their conversations.
OK! NEWS: ANTHONY WEINER OFFERED ROLE ON ENTOURAGE?
Traci, who admitted to chatting with Anthony on Facebook and Skype, sat down with Ann Curry on Today to clear up the false reports against her.
Article continues below advertisement
"We never really went into personal things as far as that,'' Traci said. "There are different reports that… said I mentioned about his wife. I know it's bad enough, but that's not my style. I wouldn't have done that."
And the 35-year-old didn't have anything she'd like to say now to Anthony's now pregnant wife.
"I don't even like to think about that, really, because at the time I didn't really think about his wife,'' she explained.
OK! VIDEO: PRESIDENT OBAMA ON REP. ANTHONY WEINER SCANDAL — "IF I WERE HIM, I WOULD RESIGN"
Why did Traci get involved with talking to Anthony at all?
"I was flattered,'' Traci said of their relationship. "It was more than just sexual. We exchanged music or just talked about life in general.''
And she has no regrets.
"It is what it is,'' she said. "There's nothing I could do about it at this point. I don't regret it. It changed me in some way or made me who I am today, so I don't really regret anything, adding, "it was mutual. I'm not a victim.''