NEWS
'The Bachelor' Bad Girl Tierra LiCausi Is A Spoiled, Immature Brat, Says Bachelor Pad Winner Natalie Getz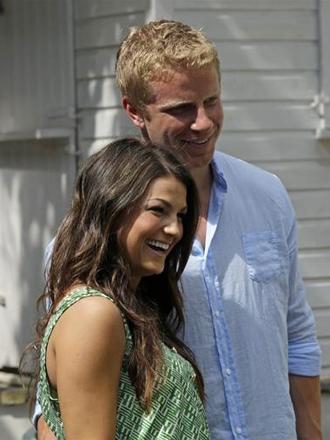 Article continues below advertisement
But there are many who feel that Tierra was doing it all for attention. Bachelor Pad winner Natalie Getz weighs in on this season, gives her thoughts on the bad girl and what she thinks of Sean's two leading ladies..
OK!: What did you think of Sean's choice of the final two?
Natalie Getz: I think AshLee is a very beautiful woman and has so much to offer a man. She just needs to tone it down on the emotions. Crying and obsessing over a guy who is still dating other women is a bit odd. Especially on a TV show! I think Sean kicked her to the curb because she is too serious and not playful fun like the other girls.
OK!: AshLee Frazier was very upset and didn't even speak to Sean when she was let go - do you think she was blindsided by his choice?
NG: She was definitely blindsided. I would have been blindsided had I not read the spoilers hahaha! Sean flat out told her, "It's been you from the beginning. I can see you being my wife. You are the one." I just don't understand why he would tell her this unless he knew he was for sure going to propose to her in the end. A lot of past Bachelors and Ettes have known early on who they want, and you can see it through chemistry and conversation. Sean is a nice guy and didn't mean harm, but he is one confused little puppy. If I were AshLee, Sean would have gotten smacked across the face.
Article continues below advertisement
OK!: Who do you think Sean has the most connection with Catherine Giudici or Lindsay Yenter?
NG:I think Sean is a very serious person and it takes someone playful and energetic to draw that side out of him. He is relaxed, loose and giddy around Catherine and Lindsay, but around AshLee he looked like he was going to fall asleep. I can tell that Sean's "type" is the girl next door, cute, playful type. He didn't seem too interested in the "sexy" ladies.
OK!: What did you think of Tierra LiCausi this season and her actions?
NG: I'm obsessed with Tierra. The villain makes the show. She is a spoiled, immature brat who rubs girls the wrong way but plays with guys heads. PERFECT for this show lol! I think Tierra is the kind of person who is kind and loyal to her family, partner and maybe has 1 close friend. I guess there is nothing wrong with that, but it's not my cup of tea. I'm a girls girl and couldn't imagine not getting along with them.
Article continues below advertisement
OK!: Do you think it all just for attention and to stand out?
NG: Whether Tierra realizes it or not, her behavior and actions cause her to become the center of attention. I think she needs attention non stop and subconsciously does ridiculous things to draw attention to herself. I hope she isn't the type of mother who is jealous of her daughter for making the cheer leading squad.
OK!: And she's engaged already—what do you think that's about?..
NG: Apparently Tierra has been with this guy "on and off" for 3 years. She probably felt stupid for getting dumped after professing to America that she can get any guy she wants, so she found the first loser to put up with her shenanigans and say I do. She ripped on Lindsay for being 32 and single, yet I guarantee she will be on third failing marriage by then. Sounds like she just wants to get married to do it, instead of taking her time and being picky like Lindsay.
Article continues below advertisement
OK!: Why do you think The Bachelor romances never seem to work out?
NG: They never work out because most people have a jealous streak or sense of pride. Never in a million years did I actually consider having a relationship with my bachelor, Jason Mesnick. He is a wonderful guy and I love him dearly (LOVE his wife, Molly), but I'm the type of person who wouldn't be able to handle my boyfriend falling for other women. Sounds ridiculous even saying it, ha! I am the type where if I fall in love, I have tunnel vision. I'd want it to be the same with my partner. Can't imagine marrying someone like Sean who didn't know if he was in love with me more than a few other girls. INSANE! Also, I feel like they pick a girl to marry just because they feel they have to. They may not be "meant to be" with any of them.
OK!: What's the latest in love for you? Are you dating?
NG: I've been dating my boyfriend, Patrick, for over a year now. He is the sweetest person in the world and HOT! He is perfect for me, because I am an extrovert filled with too much energy, anxiety and OCD. He is the exact opposite which is what I need! I love his family and my family loves him. I got pretty lucky! Him? Not so much. hahaha:) We live on the beach and live a chill lifestyle. Different than the Chicago lifestyle I lived and a lot less stress!
Article continues below advertisement
OK!: How do you think Sean shaped up as The Bachelor this season?
I thought Sean's season would be exhausting. He really impressed me by making it one of the best I've seen! Well, to be fair here, Tierra and the girls made it the best. I was worried Sean wouldn't make out on camera b/c of his religious lifestyle, but he definitely ho'd it out. I'm proud of him. Now we just need to get him married so the poor guy and self proclaimed "born again virgin" can get laid!
What do you think of Tierra? Was she doing it all for attention? Did Sean make the right choice getting ride of AshLee? Weigh in below or tweet us @OKMagazine!