NEWS
Bachelor in Paradise: Sarah Herron Admits Dating in the Real World is Tough After The Bachelor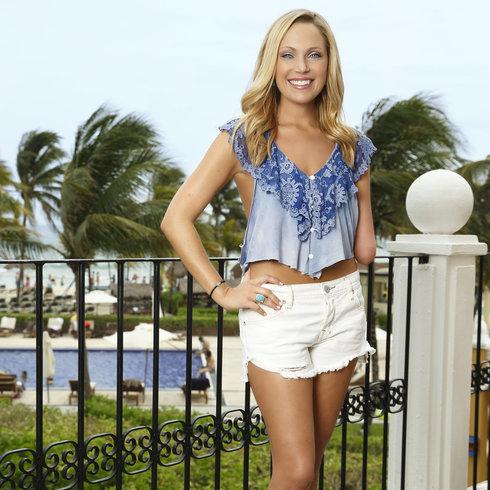 Bachelor in Paradise kicked off with a bang last week with the former Bachelor and Bachelorette contestants descending upon Mexico for a second (or possibly third or fourth) chance at love. Sarah Herron (who you'll remember from Sean Lowe's season) narrowly escaped being sent home in a twist when Ben Scott gave her a rose instead of Daniella McBride.
OK! chats with Sarah about why she decided to give it another go with finding love on reality TV and how the real world dating game changes once you've been on The Bachelor.
Article continues below advertisement
OK! News: Are The Bachelorette's Andi and Josh Already in Trouble?
OK!: When you got the call to do Bachelor in Paradise did you think of it as a fun vacation or as real opportunity to connect with someone?
Sarah Herron: When they asked me to go on Bachelor in Paradise I had no hesitations about it. I genuinely loved my experience the first time so much. I loved getting to know people. I loved getting to know Sean even though it didn't work out. I've always been a believer in the process and I believe in the show. I believe in finding love. I'm such a hopeless romantic. I know a lot people think it's crazy. I had zero hesitation. I said, "Sign me up," because I knew that I'd be with people I love and enjoy. Everyone I've met for the most part from Bachelor Nation is incredible. Everyone is so unique and different and full of awesome personalities and the guys are all smokin' hot. I knew it was going to be insane and incredible and I knew I would learn about myself and I just love sharing that experience with people. I was all in.
OK! News: Find Out Why Michelle Money Says the Bachelor in Paradise Drama is Shocking
OK!: Were there any guys you were hoping would be part of the cast?
SH: I've met a lot of people so for the most part I feel like I was just open to whoever would be there. I wanted to have an open mind to it because I know people in the past, like from Bachelor Pad, would say, "I never in a million years would've expected to fall in love with so and so but I did." Who I'm thinking of specifically is Jaclyn Swartz and Ed Swiderski. Jaclyn was like I never in a million years thought I would fall in love with Ed and I did. So I Just wanted to have an open mind and an open heart. I was really looking forward to Brooks Forrester being there. I kind of had a crush on him.
MORE ON:
Bachelor in Paradise
Article continues below advertisement
OK!: Did you know he was going to be there ahead of time?
SH: I had no idea and I didn't want to know. I really wanted to go into it a total surprise on the first day and really go through the experience the way it was meant to be had. I didn't want any spoilers. I didn't want to talk to my friends. I know enough people I could figure out through the circuit who was going but I really didn't want to know.
OK!: How much do you feel the idea that if you didn't pair up with someone they would send you home affected the way people connected to one another?
SH: It's really interesting because it wasn't a competition show, there's no prize so there really shouldn't be a motive to wanting to stay if you're not having a connection with somebody. But there was pressure I felt to have a connection or the fear of going home and that gave me anxiety for sure because you're there to find love and it might not happen on the first week but we knew new people would be coming. It was always a really awkward predicament because I might not be connecting with someone this week but he might show up next week. We just never knew what to expect.
Article continues below advertisement
OK! News: Graham Bunn Reveals The One Person He Wanted to Meet on Bachelor in Paradise
OK!: How hard is it to go back into the real dating world when you've been through these experiences?
SH: I can't talk about this experience what it's been like but the first time after Sean I actually feel like it was detrimental to my dating life for a little while because one, I don't think guys like that. Guys don't want to date girls who went on this show. At least for while the show is airing you can forget about trying to date because I don't think any guy is going to want to start dating a girl that's falling in love and being vulnerable and crying on TV about another guy. So that was always really difficult. I think a lot of guys just don't want to date a girl who is associated with the drama or all of those things. That was tough. It's really hard to find a guy who is accepting all of that, but with that said these experiences have been so incredible for my life that I'd be willing to sacrifice how hard it is to date for a little while just to live through it all again. It's been great.
Bachelor in Paradise airs Mondays at 8/7c on ABC.
Who do you hope will find love on Bachelor in Paradise? Tell us in the comments or tweet @OKMagazine.