NEWS
'Bachelor' Preview: The Girls Rip Apart Courtney Robertson on 'The Women Tell All' Special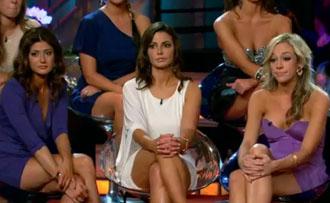 If you thought the girls disliked Courtney Robertson while they were filming The Bachelor, just imagine how they feel now that they've watched the season and realize she's in the final two!
On tonight's The Women Tell All special, axed contestants, including some of our favorites like Nicki Sterling, Kacie Boguskie and Emily O'Brien, let host Chris Harrison know just how much they dislike Courtney.
Article continues below advertisement
OK! NEWS: BACHELOR STAR COURTNEY ROBERTSON TRIES ON WEDDING DRESSES! IS SHE ENGAGED TO BEN FLAJNIK?
But in a twist of events, the women find out the villainess herself is standing backstage, listening to everything they have to say about her — and she's there to confront them!
"She says things to me like, 'Oh, I didn't know strippers could play baseball. Well, Courtney, I didn't know models were strippers as well," says Blakeley Shea, adding, "because you took your clothes off for America, not me."
Nicki, who was sent home just last week adds her two cents about Courtney, too, saying, "If she was consistently as horrible as she was up until the last episode, okay, then you're doing what you got to do to 'win.' But all of the sudden she had a change of heart when she realized, 'Oh, it's down to the final few and my chances of winning might be hindered by the fact of how horribly I treated people,'" Nicki explains of Courtney's fake apology to Ben on last week's episode. "Then she flips it and she feels bad? I don't buy that for a second."
MORE ON:
courtney robertson
Article continues below advertisement
OK! NEWS: BACHELOR BEN FLAJNIK: "KACIE B. IS MORE ATTRACTIVE THAN COURTNEY ROBERTSON"
But, our favorite comments came from Emily, who was probably the girl in the house Courtney treated the worst, not only making fun of her in on-camera confessionals, but to her face.
"I think the apology was another step in her strategy to win," Emily says. "First of all, she doesn't believe in apologies because I tried to apologize to her and she said, stick it up your f***ing a**."
Watch a clip of The Women Tell All and let us know what you think!