NEWS
'Bachelorette' Recap: Emily Maynard Finally Gives Ryan Bowers the Boot and Goes Against the Grain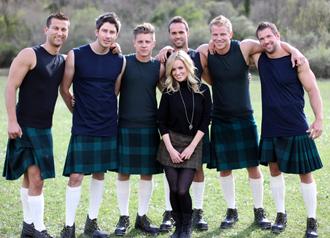 Finally, after seasons of women falling for the bad guy, this year's Bachelorette Emily Maynard didn't and saw right through the charms of the cocky and confident contestant, Ryan Bowers.
After weeks of listening to his random rants about how incredible he is and how he thinks she would make the perfect "trophy wife," Emily decided that enough was enough and sent Ryan home, despite her chemistry with him. (Let's just say all the other guys were thrilled with her decision.)
Article continues below advertisement
OK! NEWS: DID ARIE LUYENDYK JR. ACCIDENTALLY REVEAL THE WINNER OF THE BACHELORETTE?
But let's go back to the beginning of the episode, when Emily and her remaining eight men arrived in Dubrovnik, Croatia for their next round of dates. Travis Pope, aka the egg guy, got the first one-on-one date and spent the day exploring the historic town with Emily. The pair had an amazing day, snacking on ice cream, checking out the sites and even dancing in the streets! But despite their connection, Emily felt that their relationship was more of a friendship than a romance and sent Travis home.
For the group date, Emily took Sean Lowe, Jef Holm, Doug Clerget, Arie Luyendyk Jr., Chris Bukowski and John Wolfner to an advanced, private screening of the new animated flick, Brave, which tells the story of a Scottish princess, Merida, who defies the marital customs of her family and causes chaos in the kingdom.
Following the screening, Emily broke the news to the guys that they would be competing in various events — like the warriors did in Brave — and battling it out for her affections. Sean, Jef, Doug, Arie, Chris and John shoot bows, toss tree trunks (yes, tree trunks) and fight to the "death" in an intense tug of war — and it was pretty hot! Some of these guys, ahem Sean and Doug, really got some muscles!
Article continues below advertisement
Although Chris failed to show off his athletic ability in the events, Emily awarded him with the bravery cup for giving it his all and stepping up to the plate. And at the cocktail party following the match-up, Emily also gave Chris the rose, protecting him from this week's elimination. Of course, she also spent quality time with the other guys and proved once again that she's smitten with Jef, who confessed that he's "crazy about her."
For the last date of the week, Emily took Ryan for a drive through the Croatian countryside, where they stopped at a dock and fished for oysters. Although Ryan makes Emily laugh and brings out the best in her, he's also very degrading and keeps explaining to Emily that she'd make a wonderful "trophy wife" for him. This never sat well with Emily and is the reason why she decided not to give him a rose during the dinner portion of their date. Plus, Ryan's "List of Things I Want in a Woman" doesn't go over to well either, considering he's looking for the "perfect" family, while Emily is simply searching for a "loving" one.
Article continues below advertisement
OK! NEWS: BACHELORETTE RECAP: JEF HOLM TAKES THE LEAD IN THE RACE FOR EMILY MAYNARD'S HEART!
But despite the rejection, Ryan fought back, telling Emily that she was making a huge mistake by not giving him a chance... Ew. Let's just say we wanted Ryan to just shut up by the end of the date. He truly was only on the show to be the next Bachelor and had no interest in falling in love with Emily.
Continuing on — when Emily arrived back to her hotel room, she got a nice surprise from Arie, who broke the rules of the show and escaped to find her after he discovered she sent Ryan packing. He reassured Emily that she made the right decision and then proceeded to make out with her before admitting he's falling in love. Awww!
At the cocktail party before the rose ceremony, Emily revealed in a confessional that John or Doug would be the one going home, but after she had intense and passionate conversations with both of the guys, she decided that maybe her thought process was wrong.
In the end, Emily gave Sean, Jef and Arie a rose (Chris already had one) and then informed Chris Harrison that she would like to keep both John and Doug around for one more week as the group heads to Prague.
We love how Emily takes the show into her own hands and rolls with her own punches. It truly proves that she's there to find love and she's not going to leave without it.
For more on The Bachelorette, check out this video from SheKnows.com: