NEWS
'Bachelorette' Recap: Emily Maynard Sends Two Men Home in a Shocking Elimination!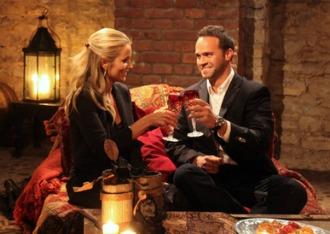 With six men left on The Bachelorette, we knew Emily Maynard would have to face a tough decision at this week's rose ceremony. But to our surprise, she sent home two of the guys who were ready and willing to take on the role as dad to Emily's six-year-old daughter, Ricki. Who did she send packing? Read on to find out!
Emily and her six remaining contestants, Arie Luyendyk Jr., Sean Lowe, Jef Holm, John Wolfner, Doug Clerget and Chris Bukowski arrived in Prague for some romantic dates this week. For her first one-on-one date, Emily chose Arie to join her for a tour of the city.
Article continues below advertisement
Of course, as usual, Emily and Arie hit it off and appear to be totally into each other, but Emily knows Arie is keeping a big secret from her and she can't seem to let her frustration go for the first part of their date. As OK! has reported, Arie was in a brief relationship with Bachelor producer Cassie Lambert nine years ago, but has yet to tell Emily about it. So, in an awkward on-air interview, Emily grills Cassie and lets her know that although her romance with Arie was short, she wishes he would have filled her in before their relationship got more serious. Cassie agrees and decides to sit down with Arie and Emily in a private, off-screen discussion with Arie. Once this drama is all settled and Emily forgives Arie, the pair continue their romantic evening in Prague and prove once again that their connection is stronger than ever. (We think Emily may have let Arie off a bit too easy, but hey, if she likes him, she likes him).
OK! NEWS: BACHELORETTE PREVIEW: ARIE LUYENDYK JR. IS KEEPING A BIG SECRET FROM EMILY MAYNARD
Next up, Emily goes on her first one-on-one date with John, who is a bit behind in the love department. Although Emily is attracted to John, she feels that he's been very guarded and has moved much more slowly with her than the other guys. Plus, she's just not feeling the romantic connection between them.
But that all changes when Emily and John share some quality time together and really get to know more about each other. John fills Emily in on his last relationship, letting her know that his former girlfriend cheated on him and broke his heart. This conversation allows Emily to see that John is trying to connect with her on a deeper level and she begins to open her heart to him. The two share their first kiss and John is over the moon. When he returns to the house, he lets the other guys know that his date went so well with Emily that he thinks he'll definitely get a homeown date next week.
Article continues below advertisement
This new information freaks out Chris, who has been struggling with The Bachelorette dating process and feels that he hasn't had a chance to rekindle his romance with Emily in weeks. John's conversation also gets Sean riled up and he decides to go out and find Emily in the streets of Prague so that he can spend some quality time with her. Although this little stunt is not technically allowed ont he show, Emily is thrilled to see Sean when he finds her after screaming her name throughout the city. The two of them share a romantic and passionate kiss and reconnect, proving that their relationship is very far along.
For the group date, Emily takes Sean, Chris and Doug to a historic castle in Prague and makes sure to spend one-on-one time with each of them throughout the day. When Emily sits down with Doug, his body language and attitude is just off and makes her realize that she no longer feels a connection with him. She lets Doug know that although he's a great guy and she's been rooting for him all along, she just doesn't see their relationship working out. Emily sends Doug home then and there and he's obviously shocked. Although he sheds a couple of tears in the car, it was pretty appaent to all of us that Doug and Emily just didn't have the connection she shares with some of the other contestants.
Article continues below advertisement
During the night portion of the date, Emily cuddles up to Sean before sitting down with Chris, who has been in manic mode all week. (Obviously this Bachelor thing isn't for him). Chris lets Emily know that he's upset he didn't get a one-on-one date and that he's confused as to why she chose him for the group date. All Emily can do is apologize and reassure Chris that she has strong feelings for him. But apparently, these feelings aren't as strong as her feelings for Sean. She gives the hunky blonde the rose and leaves a heartbroken and angry Chris empty-handed. And let's just say he's not happy about it!
For her last date of the week, Emily reconnects with one of this season's frontrunners, Jef. The two enjoy a walk around the city before heading into a puppet shop to buy some marionettes. (Jef even runs back into the store to buy Ricki a mini marionette... it made us swoon!)
After their puppet shopping spree, Emily and Jef head over to an abandoned library for some quality face time. These two are totally smitten and it's adorable to watch. Jef brings out the playful side of Emily and really lets her know that he's falling in love with her. It would be no surprise to us if Jef made it all the way to the end!
Article continues below advertisement
OK! NEWS: BACHELORETTE RECAP: EMILY FINALLY END RYAN BOWERS HOME & GOES AGAINST THE GRAIN
At the rose ceremony, Chris Harrison tells the guys that Emily has made up her mind and that there will be no cocktail party. This news doesn't sit well with Chris, who wanted to apologize to Emily for overreacting after she gave Sean the rose on the group date. He has a feeling she's going to send him home before she gets the chance to meet his family.
After Emily hands out her first two roses to Jef and Arie (remember, Sean already has a rose), Chris stops Emily and tells her he really needs to talk to her. This break in the elimination throws John for a loop and he's obviously nervous as he watches Chris and Emily walk off for a private chat. Chris apologizes to Emily and lets her know that he sees a future with her and thinks he is the best guy for her. When they return to the rose ceremony, Emily gives Chris the final rose and sends a shocked and sad John home.
Next week, Emily will make stops around the U.S. to visit her final four's families! Whose family do you think will make the best impression?