NEWS
'I Love You Z': Bella Thorne Does Not Want Any 'Beauty Battles' With Zendaya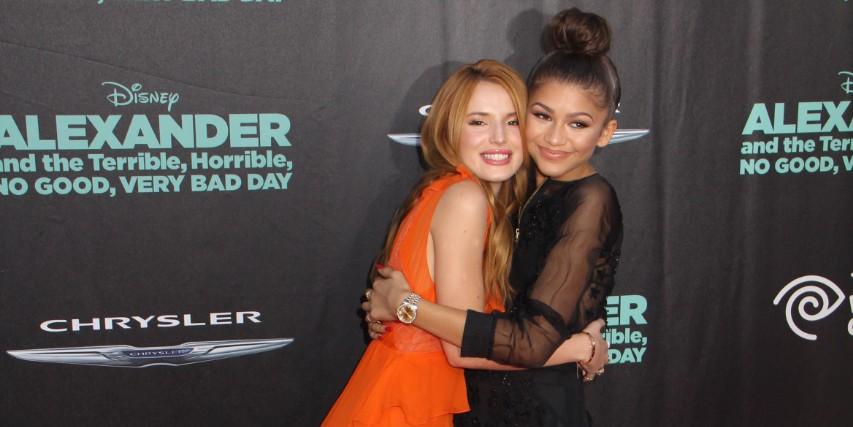 The friendship between Bella Thorne and Zendaya has held strong for a decade, and they're not about to let "beauty battles" get in the way.
Thorne, 22, spoke about people drawing parallels between the two in a recent interview with Entertainment Tonight while promoting her Netflix film The Babysitter: Killer Queen.
"I think people love putting women against each other. It's always this and that. It's been happening to me and Zendaya since we started the damn show. It's not a surprise," she said. "When you've got women and you're growing up in the same market — even just as well other Disney stars; even if they're not on the same show — you still get pitted against each other."
Article continues below advertisement
BELLA'S 'TRULY SORRY' AFTER ONLYFANS CHANGES RULES, WAS 'TRYING TO REMOVE STIGMA BEHIND SEX WORK'
Thorne clarified that she is not ready for such negativity in her life.
"I'm just not gonna waste my time hearing their negativity because I have better things to fill my head with. With growth, real growth," she added. "And I think that when people are just really negative, then it's harder to grow."
Thorne had already pointed this out two years ago after a publication posted a '#beautybattle' between her and Zendaya.
Retweeting a tweet by a publication called Seventeen Latin, Thorne said: "Beauty battle? That's not right. Damn it's been years and people still wanna pin us against each other in some way. :( love you z."
It was also reported that she made $2 million off OnlyFans' subscription-based model in a week's time.
The Florida native's subscription level was at $20 per month and she promised to post "personal content and never before seen photos and videos."
She explained that she is joining the subscription platform for research purposes.
"What are the ins and outs? What does a platform like this do to its users? What's the connective material between your life and your life inside the world of OnlyFans? … How can it change your life for the worse and the better? How far are you willing to go, and how far do you WANT to go? You can be me, or this talented girl from Montana, and OnlyFans could change your life — if you want it to, of course," she said.