NEWS
Ben Affleck & Jennifer Garner's Marriage Blowup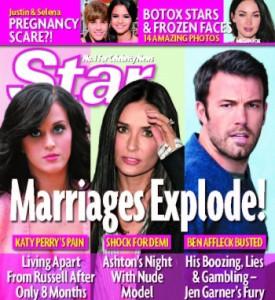 Ben Affleck and Jennifer Garner's marriage is on the brink after Star ripped the lid off Ben's shocking hidden gambling life and involvement in an underground poker ring. Friends say Jennifer is reeling from the news that her husband of six years has not been honest with her and reverted to his dangerous habits of boozing and gambling millions of dollars behind her back. As Star first revealed in a world-exclusive article, for years Ben has been secretly gambling a fortune in high-stakes poker games that included A-list stars like Tobey Maguire, Matt Damon, and Leonardo DiCaprio.
Article continues below advertisement
"Ben's telling friends that Jen is 'busting his b*lls' about the scandal," the source reveals, adding that Ben, 38, routinely lost tens of thousands of dollars in a single night. After Ben's rehab stint in 2001, Jennifer is terrified that his history of gambling, drinking, and womanizing is catching up with him. "Jen had no idea that he was playing poker and drinking again, let alone that he was a key figure in a secret gambling society that playing up to twice a week," one of the game's players says.
When he and Jennifer married in 2005, Ben promised his love that he was sober and had given up gambling — but that clearly hasn't happened.
"Ben has a really compulsive personality and can't help himself," says the source. "If you lose close to $500,00, that's a problem — no matter how rich you are."
It's also a problem that could threaten his marriage. "Once Ben starts gambling, he can't stop," the insider says. "If things get worse, Jen could be a single mom." The source ads: "This had created big problems in Ben's life, and he is beyond worried."
For more on this exclusive scoop and many more, check out the new issue of Star, on sale everywhere now!