NEWS
Beyonce's 'Lemonade' Artist Creates Stunning Limited-Edition Belvedere Bottle for RED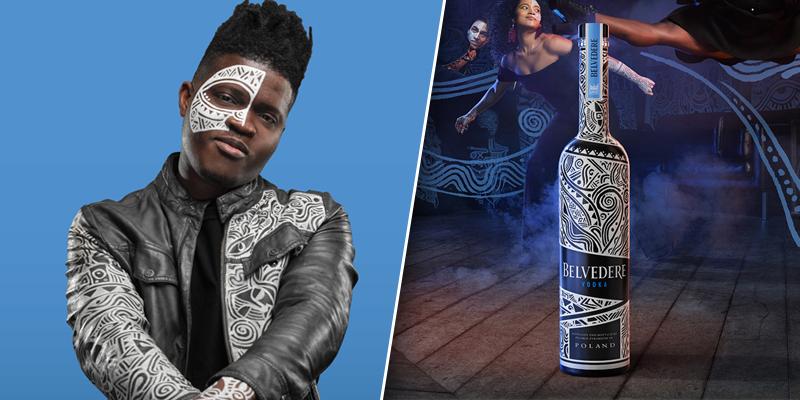 The award-winning artist hand-picked by Beyonce to create designs for her Lemonade visual album has joined forces with Belvedere to create a stunning limited-edition vodka bottle in honor of the RED campaign.
Nigerian-born Laolu Senbanjo risked it all when he left his job as a human rights lawyer in his native country to pursue his passion of art in New York. Beyonce discovered the talented artist on Instagram – and he has been living out his dream since. Now, thanks to his partnership with Belvedere, Senbanjo's bottle will support the global fund to help eliminate HIV/AIDS in Africa. Launching Sept. 6, the bottle will be available in all sizes in major marketes. OK! sat down with the talented artist and Belvedere Vodka President Rodney Williams to learn about the exciting collaboration.
Article continues below advertisement
Q: What was it like to have this opportunity to create a signature bottle for Belvedere?
A: This has been an amazing partnership with them. When I was told general things about the brand, like the bottles, the passion, inner beauty, those are things self-reflected in my art. So when that happened, I was like, wow, we have a lot of common interests here. Also, I've been using the mantra, "Everything is my canvas" and I was asked to make a vodka bottle my canvas. Of course I said yes!
Q: The bottle will support the RED organization and the Global Fund to fight HIV/AIDS in Africa. Since you are from Nigeria, how does that feel?
A: It doesn't get better than that! I used to work with women and children in Nigeria as a human rights attorney.
Q: Tell me about your design for the unique bottle.
A: I take symbols from Yoruba mythology. I was born and raised in Nigeria and I am of Yoruba ethnicity. If you tell me a story about something, I'm going to interpret it through that lens and the elements of Yoruba. The spirals on the bottle mean inner beauty. The heart means passion. You can see the flow of the water all throughout, and there's balance with symbols of rye.
Article continues below advertisement
Q: You left your career as a human rights attorney in Nigeria to pursue art. What was it like to make that brave transition.
A: I'm going to be honest with you. Ever since I've been doing this, I've never felt more alive. Every time I talk about it, every time I do my art, I feel alive every day. I love every bit of it. To work with brands like Belvedere? It's a dream.
Q: You not only met Beyonce and worked for her, but she discovered you on Instagram! What was it like to get that phone call?
A: How rare. She told me she checked out my Instagram, my Facebook, my YouTube! Nobody knows I have a YouTube.
Q: So Beyonce is a bit of an investigator!
A: She investigates!
Q: What is she like in real life?
A: When I met her it was so obvious that she's a genuine human being. A lot of people don't know who she is. She's an amazing person. She's also a perfectionist. She loves to get it done. Her work ethic is nothing like I've seen before. She's in front of the camera and behind the camera. She's looking at everything. If she doesn't like the shots, she gets back on again, looks at it, gets back on. And, she's learning and teaching steps! Some moves she learned on the spot. I thought how have you been doing that like you've done it for 30 years?
Article continues below advertisement
Q: You've done some amazing work with major brands Nike and Belvedere, what's next for you?
A: I want to work with Tesla and I really want to paint on a spaceship. Or Nasa. I think they're boring. I think we can actually do something unique. I think I can mention it, that I have something coming out with Starbucks.
Interview with Rodney Williams, president of Belvedere Vodka:
Q: What was the vision behind this partnership and why did you choose Laolu to create the bottle?
A: We've been doing limited editions for a number of years as a sponsor of Bono's RED campaign to end HIV and Aids in Africa. Traditionally we would have an all red bottle and an silver bottle because it's usually around the end of the year. We decided, wouldn't it be great to collaborate with an artist who has some of the same values that we do? One of the things that Belvedere holds true is this whole idea of unexpected beauty. Beauty is all around us. Beauty is in craftsmanship. Beauty is in some of the more simple things in life. Some of the things that are sort of under-appreciated. When we learned about Laolu's philosophy – that everything is his canvas and that he's all about pulling out the inner beauty of whatever his subject matter is – Belvedere is just made from water and rye. It's all natural, we have no additives. We have no sugar. It's gluten-free. It's non-GMO. He took it and ran with it. It's about flowing, it's about inter-connectedness. Another thing that makes Belvedere unusual is that we don't have one master distillery. We have a team that works together to create the product. It's really about connectedness too, in terms of his design. We're blown away. We always had the Belvedere place – our logo – on the bottom. It's where the president lives in Poland. We cleared that off. We cleared off our silver birch trees. We just said, we want you to have a complete canvas to do the magic. He knocked it out of the park.
Article continues below advertisement
Q: So it's usually a red bottle for this campaign. How does it feel to do something different this year?
A: We're excited. We think it'll attract even more attention to the campaign. The work they're doing is so important. The pace and progress we're at right now by 2023, transmission of HIV and AIDS from mothers to babies will be eliminated in Africa. There will be treatments for everybody, which is fantastic. Hopefully by 2030 everybody who wants and needs treatment can be treated. It's really an important campaign. I think it's really positive. The fact that Lalou was a human rights lawyer was a full circle for us.
Q: Yes, with his background as a lawyer, what his art symbolizes and the RED campaign, it all seems to really make sense for everyone involved. How did you discover Lalou?
A: We read a lot about him. Nigeria is an important market for us, and his whole story about coming to Brooklyn and being an artist inspired us. Of course, when he worked on the iconic Lemonade album with Beyonce, we were like, we've got to work with this guy!
Article continues below advertisement
Q: Lalou's platform is about capturing the essence of things. What would you say is the essence of Belvedere?
A: I would say the flowing, natural goodness of the product itself. It is 100 percent natural. It is just water and rye. It's simple, elemental ingredients that come together to create something extraordinary, which he does so well. What else I think is cool is he takes a lot of symbols from Yuroban myths from Nigeria where he is from. Yuroban symbolism you find in a lot of creative expressions in the US. There's lots of layers to his work.
Q: The bottle launches Sept. 6. How long will it be available?
A: Yes, it will be available through the end of the year in major markets. We're pretty excited!