NEWS
Bonus Jonas! Here's What Else We Talked About During Our Interview with Kevin and Danielle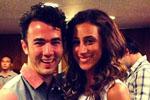 By now you've seen our exclusive video interview with Kevin and Danielle Jonas about season 2 of Married to Jonas, having kids, Dani's upcoming cookbook and more, but believe it or not, there was more from our chat with them that made it to the cutting room floor. Crazy, right?
OK! Exclusive: Danielle Jonas Spills On Her New Cookbook
But even though it didn't fit into the video, we decided to share the rest of the juicy tidbits with you today, since #MTJ premiered last night and we bet that you're still thinking about the episode. Read on to see what Kev and Dani told us about Jonas family vacations, mother-in-law drama, how "Pom Poms" reminds Kevin of Danielle and more below!
Article continues below advertisement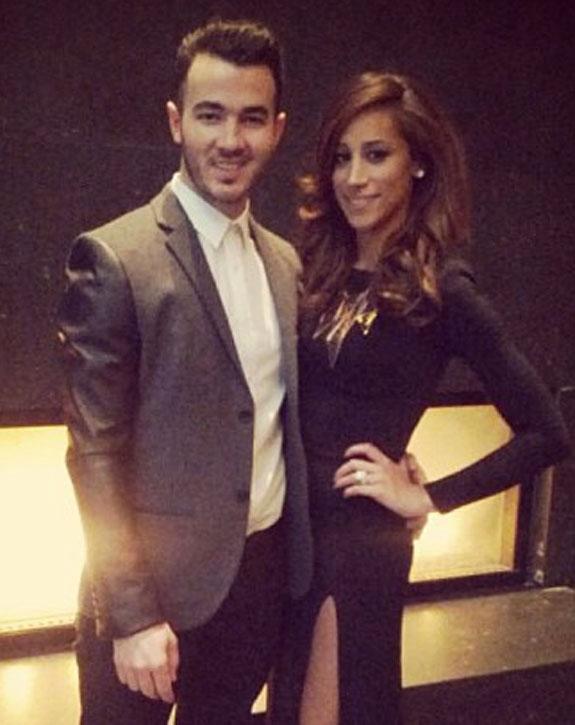 Watch: What's Next For The Jonas Brothers?
OK!: What do you do less or more of this time around that you learned from filming season 1?
Danielle Jonas: We don't yell as much, I guess.
Kevin Jonas: Yeah, that's true.
DJ: We talk to our families a little bit more on maybe what we would want instead…
KJ: Mmhm. You kinda learn to speak up a little bit more with doing a show like this. You're way more comfortable the second time around. Cause with the first season you're like, "whoa this an entire foreign thing to you." Walking down the street and you've got 6 cameras in your face, it takes some getting used to. But I think people forget that it is a job. When I say a job, it's hard work. Always having to be on and if you say something that could hurt someone's feelings, it's going to be on TV. So we're definitely more aware, but I think we've been very honest doing a show like this and I'm pretty proud of it.
Watch: The Cutest Jonas Fan Moments of the Week
OK!: You guys have gone camping, gone to Italy. What's one family thing that you haven't done yet that you want to do?
KJ: Oh, man! I know. Have any ideas?
DJ: I would love to take my family to Barcelona.
KJ: Wow, alright! I love Barcelona. Um, she's never been to Paris so I've always wanted to take her to Paris. With all the press and all the shows I've ever done there it's never worked out for her to come at the time. I think bringing both families would be cool but really I just care about her (Danielle laughs).
Article continues below advertisement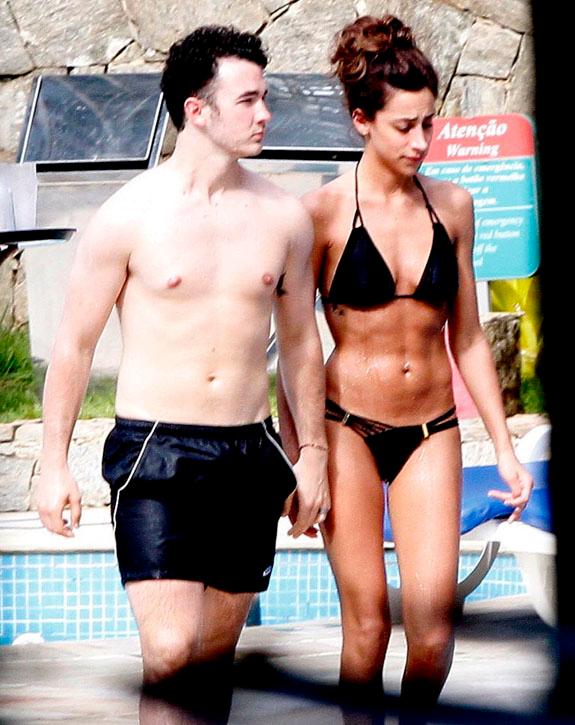 OK!: What are the Deleasa and Jonas family vacations like?
KJ: They're kinda nuts.
DJ: They're interesting. Especially with my dad
KJ: So much food
DJ: You might as well lose like 10 pounds before you go away with my family because all you do is eat
KJ: And my family vacations pretty much consist of going to the golf course, going to the beach of some sort and hanging out and being like, the most relaxed possible. We rarely move from what we're doing. It's just really chill.
OK!: Until you have a million screaming fans outside your hotel…
KJ: We try to keep it a little bit lower key than that (laughs).
Photos: Why Joe Jonas Was Hottie of the Day
OK!: Last season there was some butting heads with Kevin's mom. Is there any more of that this time?
KJ: I think the relationship with everyone has kinda grown so much. To be honest if you were to watch like, your family for example and somebody in the outside world was saying like oh that seems weird. And at the same time we're just like, that's normal life, you know what I mean? Each situation is different so it's always about the way it's presented but you know, words do hurt sometimes with anybody's family and you just have to roll with the punches.
Article continues below advertisement
OK!: So no more napkin ring drama..
DJ: No (laughs). That's far back.
KJ: Moooooved on.
Photos: 10 Things We Learned About the Kardashians From Ryan Seacrest's Interview
OK!: When it comes to your music, Kevin, do you bring it home or keep it in the studio?
KJ: How many guitars do I have, do you think?
DJ: Tons. They're everywhere.
KJ: I play the music for her constantly when we're writing the album and especially at midnight when we're in that mindframe and it doesn't just end in the studio. I'm bringing it home and I'm like, taking her out of bed at 4 o' clock in the morning to come listen to a song and I get so excited about it and I want to share that with her. Anytime I'm in the studio I use her and the moments that we've experienced as the things I'm writing about with my brothers. Even if they're thinking about something completely different, I'm putting myself into a situation that I've been through with her that can relate.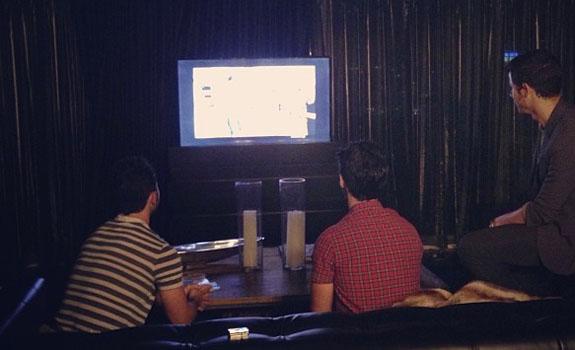 OK!: "Pom Poms"? Does that relate?
KJ: Absolutely! Look at her! It's perfect! No, um, "Pom Poms" is a fun, energetic song and it definitely is, it's just about putting some cares and worries down and having a good time. It also has some other fun meanings but it's more just about enjoying your time.
Poll: Lochte vs. Reynolds vs. Gosling: Vote For Your Favorite Ryan
What'd you think of our Bonus Jonas interview? Did you watch the #MTJ premiere last night? Tweet us @OKMagazine!