NEWS
'Breaking Dawn Part 2' Star Mackenzie Foy Says Rob Pattinson & Kristen Stewart are the "Sweetest"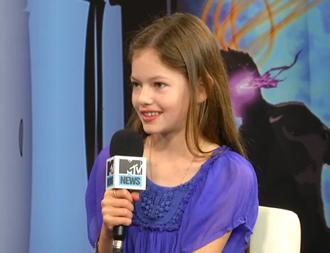 Mackenzie Foy talked Renesmee this afternoon before joining The Twilight Saga: Breaking Dawn - Part 2 panel at this year's Comic-Con alongside co-stars Robert Pattinson, Kristen Stewart and Taylor Lautner.
Mackenzie, who plays Edward and Bella's half human-half vampire child in the final installment of the Twilight franchise, gushed to MTV's Josh Horowitz about her on-screen parents Rob and Kristen and even confessed that they're never in bad moods... ever.
Article continues below advertisement
"They were super sweet friends," Mackenzie said. "They were like the friend you tell everything to, that kind of friend."
OK! GALLERY: ASHLEY GREENE, KELLAN LUTZ & MORE TWILIGHT STARS ATTEND BREAKING DAWN - PART 2 COMIC-CON PARTY
"They're the sweetest, nicest people," she continued. "They're super sweet, they're always kind and they will never be in a bad mood!"
But although they were "sweet," Mackenzie also said there was definitely some cursing going on around set, even though the cast tried to watch their mouths while they were near their 11-year-old co-star.
"Everybody cussed a little bit," Mackenzie confessed. "But I'm not going to say who... I don't want anybody's mommy to hear!"
As for how she got along portraying the most-anticipated character in Breaking Dawn - Part 2, Mackenzie said playing Renesmee was way easier than she thought it was going to be.
OK! NEWS: FIRST LOOK! EDWARD & BELLA WITH RENESMEE IN BREAKING DAWN - PART 2 PROMO PIC
"This role is very different from the other roles because some of the stuff Renesmee has to do is digitalized," she explained. "I go from an infant to a teenager to an adult, so there are body doubles and they do the movements for the movie and then I would do the voice and the facial stuff and they would blend it together."
"Then some of it, I had to do my age range and I would do regular acting," Mackenzie added. "I didn't know it was going to be full digital, movie magic stuff, but it was impressive! I'm really excited to see it."