NEWS
Bristol Palin to Margaret Cho: "My Mom Didn't 'Force' Me to Go on 'DWTS' "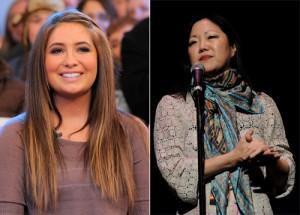 Margaret Cho made claims that Bristol Palin was forced to be on Dancing With the Stars by her mother Sarah Palin and now Bristol is firing back at her fellow DWTS contestant.
OK! GALLERY: DWTS CONTESTANTS HAM IT UP ON THE RED CARPET
Margaret recently wrote on her blog about a rumor as to why Bristol was competing on DWTS.
"I heard from someone who really should know (really should seriously know the dirt really really) that the only reason Bristol was on the show was because Sarah Palin forced her to do it," Margaret wrote. "Sarah supposedly blames Bristol harshly and openly (in the circles that I heard it from) for not winning the election, and so she told Bristol she 'owed' it to her to do DWTS so that 'America would fall in love with her again' and make it possible for Sarah Palin to run in 2012 with America behind her all the way."
Article continues below advertisement
OK! NEWS: BRISTOL PALIN — "I FEEL GOOD ABOUT MYSELF"
Well, Bristol has now taken to her to "set the record straight" on the claims Margaret made.
"I will give my friend credit for creativity, and extra points for getting so many 'facts' wrong in so few sentences," Bristol wrote in a very lengthy post. "Let me be blunt: my mom did not 'force' me to go on DWTS. She did not ask me either. The show approached me. I thought about it. I made the decision."
"It saddens me that people would think that my mom would 'blame' me for anything that occurred in the 2008 election — much less 'harshly' and 'openly,'" she added. "I think that canard (there, I said it again), has been floating around since then also."
OK! NEWS: DANCING WITH THE STARS WINNERS PERFORM ON GOOD MORNING AMERICA
But Bristol has had enough.
"Why do I want to set the record straight? Because it is this type of hurtful and false narrative that people promote to make my mom look bad," she explained. "For 20 years my mom had my back -- and for the rest of my life I will have hers."
Article continues below advertisement
But rather than fight about over blogs, Bristol is inviting Margaret to speak to her in person on the matter.
"If you ever have a question, call me girlfriend," she wrote. "Don't ever rely on 'sources' who claim to know me or my family. You will be taken every time."
OK! NEWS: BRISTOL PALIN APOLOGIZES FOR WILLOW PALIN'S OFFENSIVE FACEBOOK SLURS
Bristol then took one final dig at the DWTS contestant.
"You say you 'don't agree with the family's politics at all' but I say, if you understood that common sense conservative values supports the right of individuals like you, like all of us, to live our lives with less government interference and more independence, you would embrace us faster than k.d. Lang at an Indigo Girls concert."
She also invited Margaret to babysit her son, Tripp!