NEWS
Cannes 2013: 5 Movies To Know Now (And Who's Starring In Them)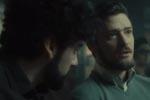 If you're wondering why half of Hollywood is overseas in France right now, it's because the Cannes Film Festival is in full effect. Every year celebs travel across the globe for 10 ish days to show off their new low-budget movies that are most likely going to get accolades at the following year's award ceremonies. It's like clockwork, basically.
OK! News: Movies to Look Forward To This Summer
And there's even a jury! Steven Spielberg, Nicole Kidman and Christoph Waltz are among the members of the jury who get to screen all the films and then vote for their favorites to win awards.
Article continues below advertisement
So which ones should you be paying the most attention to? Here's a rundown of 5 of the most anticipated films showing at Cannes, who's in 'em (Justin Timberlake! James Franco!), and more.
Photos: How The OK! Editors Fell in Love With Leonardo DiCaprio
1. The Bling Ring. We touched upon this briefly during our OK! Movie Mania intro post, but this is going to be a big one. It stars Emma Watson and pals playing real-life teens who were infamous a few years back for stealing jewelry and other valuable items from celebrities. The cast is heading to France soon to debut the film, which then hits all theaters in the US in mid June.
2. Behind The Candelabra. We first heard of this movie when we saw the trailer and could not stop staring at Matt Damon and Michael Douglas' interesting choice of attire. Then we realized that the men are playing Liberace and his lover in the film, hence the crazy outfits. The film debuts at Cannes but making its way to HBO on May 26.
Watch: The Trailer for Behind the Candelabra
3. As I Lay Dying. The title (and the film) is definitely morbid, but James Franco directs and stars in the movie, so that definitely makes it worth watching. It's also based on the 1930 classic novel of the same name and co-stars Danny McBride, which will be interesting because whenever we picture him we see him stoned and making fart jokes.
Article continues below advertisement
4. Inside Llewlyn Davis. All we need to say about this film is that Justin Timberlake is in it. Not convinced? It takes place in 1960's New York City, revolves around folk singers, and is directed by the typically-gory Coen Brothers. Yup, that'll do it.
5. The Great Gatsby. Yes, we know that technically this movie is already out all over the place, but the cast debuted the film in Cannes yesterday on day 1 of the festival. Great kick-off, if you ask us, and we're pretty sure it's going to win some awards. Clearly, it's that good.