NEWS
Cardi B And Her Sister Face Lawsuit After Altercation With 'Racist MAGA Supporters'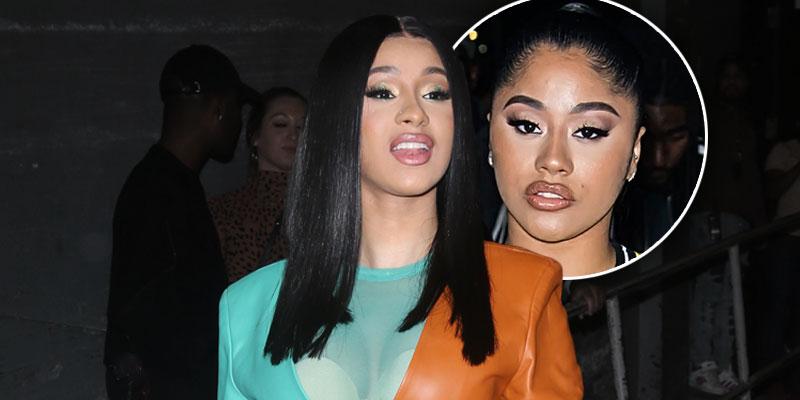 Cardi B called a group of Long Island beachgoers "racist MAGA supporters" in an edited video of an altercation between the strangers and her sister, Hennessy Carolina, and her model girlfriend, Michelle Diaz, a new lawsuit reportedly claims.
Carolina and Diaz got into a quarrel with the group on September 6 — nine days before the 'I Like It' singer filed for divorce from rapper Offset after three years of marriage — at Smith Point Beach on Long Island, where one of the men was wearing President Donald Trump's signature red "Make America Great Again" hat, the report noted.
Article continues below advertisement
The beachgoers are suing Carolina for assault, battery, defamation and civil rights violations following the incident.
FEUD REIGNITED? CARDI B'S SISTER HENNESSY CAROLINA CALLS NICKI MINAJ A 'CRACKHEAD'
The 27-year-old took to Twitter to explain that her sister and her girlfriend were harassed "because they are a Afro/Hispanic gay couple."
According to Carolina's Instagram Story, a couple and their friends told the 24-year-old to move her vehicle. The exchange quickly heated up as Carolina said, "Shut the f--k up, Karen," to the woman in the video. Carolina proceeded to tell her to "suck my d--k" as the unnamed woman flipped her off in return.
THE WAY THEY WERE: THE COMPLETE TIMELINE OF CARDI B & OFFSET'S ROCKY RELATIONSHIP
However, in the suit, which names Hennessy and Diaz as defendants, the beachgoers claim the two women harassed and defamed them by posting edited video and commentary, which "maliciously falsely labeled these residents and their families as 'n--s' and as racists," the beachgoers' attorney, John Ray, stated.
"These peaceful Suffolk County residents were quietly enjoying a Sunday at the Smith Point beach with their families, when rap celebrity Hennessy Carolina suddenly approached them, raging, spitting, insulting, assaulting, defaming and threatening them, all the while videotaping them because one of them wore a MAGA hat," the plaintiffs' attorney told ABC 7 New York.
Article continues below advertisement
THE 16 GREATEST CELEBRITY TIKTOK POSTS
In an audio recording, Hennessy explained the interaction, claiming that two men approached her and her girlfriend because they "saw us parking here and we were speaking Spanish and we're mixed." The man allegedly told the women "go to your f—king country."
The 'WAP' rapper tweeted defended her sister by posting the audio recording on social media. "Nooooo that big pink man was harassing my sister girlfriend to move her car for no reason and then my sister came there had a back and forth and they stood quit when she Wip that phone out," she wrote. "They was harassing 2 Women! Ya going to catch the right f--king one!"