NEWS
Carrie Underwood Cheating Secrets Exposed—How Real Love Healed Her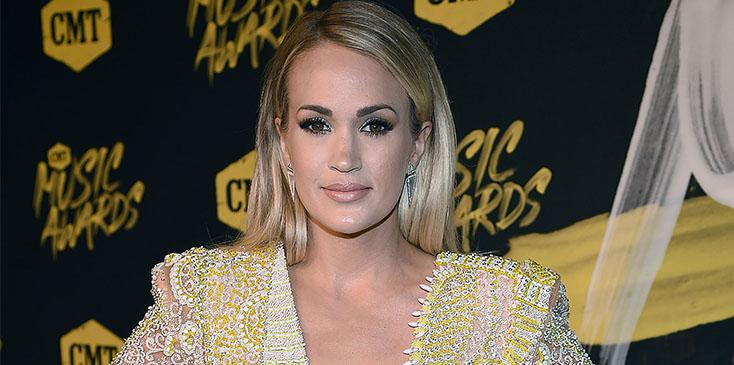 Following a terrifying accident that left her with a broken wrist and 50 facial stitches, Carrie Underwood says the unwavering love of her husband Mike Fisher is what helped her heal.
"Carrie isn't used to relying on other people," a source revealed exclusively to OK!. "She's been burned in past relationships, so she's used to taking care of herself."
But after her scary accident, during which Carrie fell down the steps, the country star felt more vulnerable than ever and started to let her husband in more. "Mike was there for her," the insider dished. "As scary as it was, the accident brought them closer together."
Article continues below advertisement
At the time of the incident, Carrie said she "was at a point where" she "didn't know how things were gonna end up." To make things worse, she and Mike were hitting a rocky patch in their relationship.
"Mike was still gallivanting around town with his buddies from the team while Carrie was home with their son," the source said of Carrie's NHL star husband. She and Mike share three-year-old Isaiah. "She had taken time off touring in the hopes that she and Mike would finally be able to spend quality time together, but she ended up feeling lonely and frustrated."
When the accident happened, Carrie was home alone with Isaiah, but Mike rushed to her side in the middle of the night. "It's crazy how a freak random accident can change your life," Carrie previously shared.
"Mike took amazing care of Isaiah," an insider close to the couple said. "He prepared the meals and even cleaned the house and changed the linens."
Not only did Mike help around the house, but he helped Carrie heal emotionally, too. "Mike was her emotional rescue," the source added. "He held her hand at the hospital and told her she was beautiful even when her face was bandaged up. She doesn't think she could have made it through this ordeal without him."
Article continues below advertisement
Carrie also opened up about her past cheating boyfriends, Tony Romo and Chase Crawford. "I've been cheated on a time or two. It's tough," she said. But Mike helped her get over her past pain. "We talked on the phone for almost three months before we actually got together," she said. "He's the only guy I've never had to worry about."
Her close friend added, "She's kissed some frogs in her life, but Mike isn't one of them. He's putting her and their family ahead of his career, which is what she wanted all along."
What do you think about Mike being there for Carrie after her accident? Let us know in the comments.