NEWS
Carrie Underwood: I Never Dreamed About My Big Day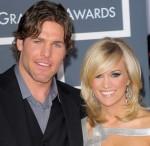 Carrie Underwood is planning to walk down the aisle with her ice hockey player fiancé Mike Fisher, but the country star admits she isn't the kind of girl who dreamed of her wedding.
During a taping for Wednesday's The Ellen DeGeneres Show, Carrie revealed that she has never thought about her nuptials, reports Access Hollywood.
CARRIE UNDERWOOD'S FIANCE WOULD LOVE HER AT 800IBS
"Are you planning the wedding? Are you excited about that part? That's a big deal for some women," Ellen said. "They love the planning part."
Article continues below advertisement
Carrie replied, "everybody would always ask me questions like, 'What have you always dreamt of? This is your day.' I never thought about it until I was engaged," Carrie revealed.
OK! NEWS: CARRIE UNDERWOOD CHOOSES HER WEDDING CITY
"I wasn't one of those little girls that always dreamt about getting married. So I have no idea what I'm doing, basically."
So, Carrie's no bridezilla? "We're both so laid back. We pick out food and we know where we're going to be… the big hurdles, but everything else we're easy about. We don't care," she added.
OK! NEWS: KELLIE PICKLER DOESN'T KEEP TABS ON TAYLOR AND CARRIE
One thing they are putting a big effort into is keeping the guest list under control.
"We're trying to keep it as small as possible, but he has so many family members and all my friends are people that I work with and I love to death so…we're trying to keep it as small as possible," she said.