NEWS
Catching Up With 'Saturday Night Live' Star Seth Meyers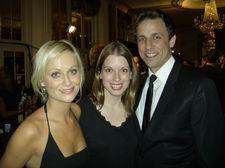 Saturday Night Live star hopes appearing on the show is a new must-do for American politicians.
Since Hillary Clinton and Barack Obama have put in face time on the show, he hopes to fit John McCain in there, too.
"Well, he has hosted before so he's a friend of the show," he says. "He hosted about three years ago. I hope to see him again soon. He's a very funny guy."
How will Seth cut back if there's a recession?
Article continues below advertisement
"We'll stop having endings on our sketches," he says.
And, what would this funnyman, 34, do if he weren't a comedian?
"Based on what happened during the strike, I would walk around in the streets holding a sign," he yuks. "I found out I have no other marketable skills."
Perhaps he'd bide his time dancing to his favorite classical tunes from Mozart.
"I like the attention when no one else gets up to dance," he says.
Catch Mariah Carey performing on tonight's edition of Saturday Night Live.