NEWS
Celine's Second Baby Surprise: Her Embryos Will Go On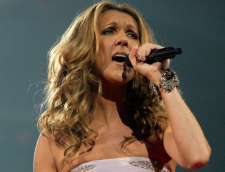 Celine Dion's long-awaited second bundle of joy will be nine years — instead of the usual nine months — in the making. The embryo used in her pregnancy was stored in liquid nitrogen for eight years, according to the singer's Manhattan fertility specialist, Dr. Zev Rosenwaks. "She is very, very early in her pregnancy," confirms the doc, adding that Celine, 41, and husband of 14 years, René Angélil, 67, are "ecstatic."
Article continues below advertisement
"She knew after her Las Vegas show that she would take a break to become pregnant again," a source close to the singer tells OK!. "She did the embryo transfer procedure and it was a success."
Dr. Rosenwaks also assisted the couple with the birth of their son, René-Charles, 8. "She always wanted to be a mom," adds the source. "Celine's from a big family; she has 13 siblings. It's not a secret she saved eggs and sperm because her husband had cancer years ago."
And the star may have time to expand her family yet again, according to Dr. Rosenwaks: "There have been embryos frozen for more than 10 years, and even 15 years, that have successfully thawed and resulted in pregnancy."