NEWS
Chris Evans Reveals He's "Incredibly Picky" When It Comes to Women: "I Like a Big A**"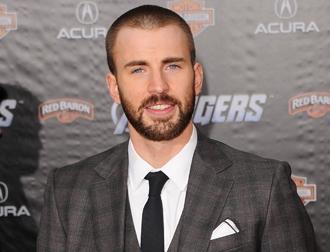 Apr. 18 2012, Published 7:31 a.m. ET
View all comments
Chris Evans may be a Hollywood hunk, but he's definitely not a Hollywood player. The Avengers star admits he doesn't date a lot of women because he's so darn picky! But how does he feel when it comes to his co-star Scarlett Johansson? 
OK! GALLERY: SCARLETT JOHANSSON & CHRIS HEMSWORTH ARE STRIKING AT THE AVENGERS PREMIERE IN HOLLYWOOD 
"I'm incredibly picky, but that doesn't mean I look for perfection," Chris tells Playboy. "I like strange things. I wish you could see some of the girls I have genuinely had crushes on in my life. They're not the girls you would assume. My friends cannot figure out the girls that, for some reason, I fall for."
Article continues below advertisement
"It's a unique blend of traits, and on top of that, I'm really enjoying myself right now," he adds. "I like being able to do what I want to do. If I want to sleep until three today, I'm gonna sleep until three. If I want to go to Vegas this weekend, guess what — I'm going to Vegas. That's a tough thing to walk away from, and so it has to be the right person. The pickiness makes that an uphill battle." 
"She is a beautiful lady. She really got blessed. I love that girl, man," Chris gushes about Scarlett. "She's like my sister. I've known her for 10 years. She's just one of the smartest people I know. It's great when someone with a razor-sharp intellect wants to have fun. A lot of my buddies who like to have fun are a little lowbrow, and that's fun. It's enjoyable, but you can laugh at only so many farts."