NEWS
Christina Milian Thinking Marriage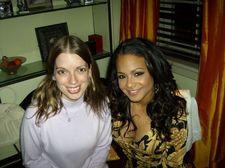 Christina Milian and her music producer boyfriend Dre met while working together on a video in 2005, and have been together ever since. While she lives in L.A. and he lives in Miami, their love goes the distance.
"He knows I love going to the beach, so he randomly booked a hotel, the Ritz, which I really like a lot," she says. "I like the Ritz on South Beach. We went to the beach and we went to the pool and had spa treatments. It was all very random. He said we were going to his house; he forgot something. The next thing I know, we showed up at the hotel and he's like 'I got you this, I got you that.' It was so sweet."
Article continues below advertisement
Why are they good together?
"He's genuine," she tells me. "When he wants to tell me he misses me, he's not afraid to. When he wants to tell me he loves me, he's not afraid to, no matter whose around. And he makes me feel special. It's great to have a relationship with someone that's so open to just love. That's what's so wonderful about him."
Are wedding bells in their future?
"Perhaps yes," she says dreamily. "I love him enough. I'm definitely happy. I could see myself with him forever – yeah."
MORE ON:
Red Carpet Confidential
She doesn't intend to give up her career, though.
"In the next ten years I see myself achieving that Grammy I've always wanted from square one. I see myself getting even an Oscar. And I see that big 20,000-feet house in the middle of Beverly Hills. Hahahaha!"