NEWS
COVER STORY: Kris Humphries — His Side of the Divorce Story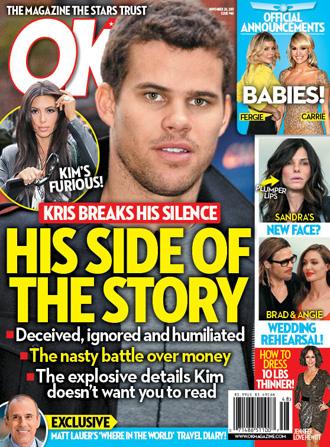 Some were shocked that Kim Kardashian's marriage lasted just 72 days — but it's even more outrageous to discover that Kim had all but given up on Kris Humphries less than two weeks after they were wed! OK! has the scoop on Kris' side of the story in this week's all new issue — on stands everywhere Thursday.
"He really thought she just gave up too quickly and didn't even try," an insider says. "It came out of nowhere — he really didn't see the divorce coming. He's angry and also very sad."
Article continues below advertisement
OK! NEWS: KIM KARDASHIAN TALKS MARRIAGE TO KRIS HUMPHRIES — "WE HAVE A LOT OF TRUST"
Kris, 26, also feels like he's been unjustly tagged as the bad guy in their marriage.
"He feels like no one cares what he has to say or wants to hear his side of the story because Kim is a bigger celebrity," says the insider. "People care more about her."
Yet Kim's irritation with Kris is written all over her pretty face for much of the premiere episode of Kourtney & Kim Take New York, which was filmed in August (it begins airing on Nov. 27) — especially when Kris continually refers to her sister Kourtney as a "weirdo."
OK! NEWS: KRIS JENNER SAYS KIM KARDASHIAN WON'T SELL DIVORCE INTERVIEW
Still, Kris claims he was caught off guard by her divorce filing on Oct. 31.
"It's been painful. Kris said that he never thought in a million years she would file for divorce without giving it a chance," the insider says. "He wanted to try. He thought in a few weeks things would be smoothed over."
FOR MORE ON KRIS' SIDE OF THE STORY, PICK UP THIS WEEK'S OK! — ON SALE EVERYWHERE THURSDAY!
ALSO IN THE NEW ISSUE:
Pregnancy rumors prompt Holly Madison to resolve to lose some weight.
Sandra Bullock gets back into the game — after having a little work done. Look at those lips!
Carrie Underwood and Fergie break the big news: They're pregnant!
Jennifer Love Hewitt demonstrates how the right dress can make you look 10 lbs. thinner.
Brad Pitt and Angelina Jolie finally tie the knot — in a ceremony staged by their kids!
Mariah Carey worked off all that baby weight for the sake of her children.
• Going Hollywood helped Jennifer Hudson and other reality TV stars amp up their senses of style.
• Oops! From Miley Cyrus to Beyoncé, stars sometimes stumble just like regular folks — only the public gets to see every misstep.