NEWS
Kim Kardashian Talks Marriage to Kris Humphries Before Divorce: "We Have a Lot of Trust"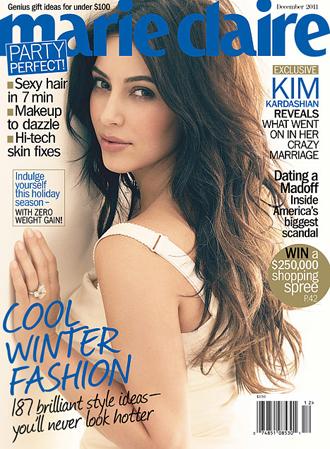 Well, this is awkward. Kim Kardashian is on the new cover of Marie Claire and talking all about her marriage to Kris Humphries. The problem? The interview was done before she filed for divorce after just 72 days of marriage.
OK! NEWS: KRIS JENNER SAYS KIM KARDASHIAN WON'T SELL DIVORCE INTERVIEW
The good news is that Kim's interview offers new insight into their short-lived marriage.
Kim defends her race to the altar with Kris to Marie Claire, which many criticized for being too quick.
Article continues below advertisement
"We felt like, 'Why wait?'" she explained of marrying after only knowing each other for 10 months. "It's fun to have a partner who understands your life and lets you be you."
OK! NEWS: KIM KARDASHIAN GOES INTO HIDING POST-DIVORCE
And when other's (Khloe Kardashian, we're looking at you) were suspicious of Kris' motives in marrying Kim, the reality starlet had no doubts.
"I'm not worried about him at all," she said. "We have a lot of trust, and I don't think either of us would do anything to break that."
"It makes life so easy," she added. "He's such a good guy; he is so down-to-earth, and it's such a reality check. He is a normal guy, and I just want to chill out and be normal and not get glammed up all the time. He gets it. Sometimes my life can be really intimidating for people, but he allows me to work and do what I've gotta do."
And apparently what Kim had to do was file for divorce on Halloween. Do you think there is any hope for a reconciliation?